Britain's best biker cafés
Biker cafés are the perfect place to meet up, have some great food and chill out with fellow bikers. All over the UK there are fantastic biker cafés just waiting to be discovered – some with motorbikes on the outside and a few with motorbikes on the inside too!
Whether you want to hang out with friends, family or just some like-minded people, all of the below cafés have motorbike themes and welcome anyone with a love of biking. It's a wonderful way to mingle, enjoy some great food and learn a little on your way.
Ryka's café in Surrey
Where: Old London Rd, Dorking, Mickleham, Surrey, RH5 6BY
Best for: Meet ups, diner food, iconic location
Ryka's Café in Mickleham offers tired bikers some fantastic food after a long ride. Keep your eyes open for the iconic Ryka's signs, and head on in for some delicious diner food. All the old favourites are available here, including burgers, chips and milkshakes. However, the main event here is certainly bikes, bikes and more bikes!
If you don't own your own bike you are still more than welcome to hang out and chat to those who do. The Ryka's car park is near Boxhill and is a great place for a meet up – especially during summer weekends when plenty of bikers congregate outside before continuing their ride out.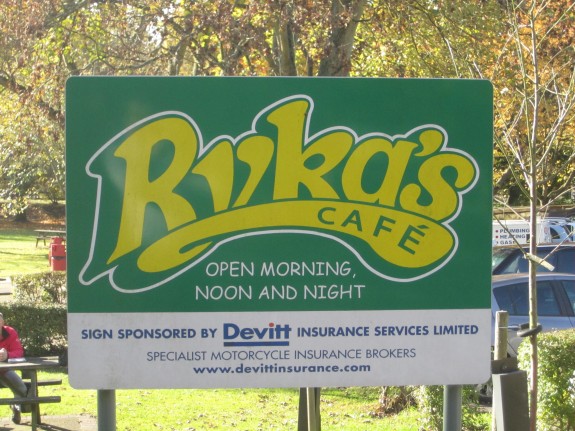 Wessons café in East Sussex
Where: High St, Horam, East Sussex, TN21 0ER
Best for: Biker relics, family atmosphere, warm staff
Wessons café in Horam has been the number one stop for bikers in this area for more than a decade. Even the inside of the café is fully decked out in a biker theme, with relics from the biking world hanging proudly on every wall. The warm staff on hand here are always a pleasure, and everyone is welcome whether you are a hard core biker or if you've just walked straight in off the street.
What makes this place even more special is that it is a family business run by Loz, Alex and Steve Wesson, Lizzie Rose and Nikki Pope – and the friendly atmosphere here makes it worth staying on for an extra cup of coffee. Be sure to mix in with the crowd, as this large café has space for 120, and its popularity means that it is often crammed with bikers and cyclists of all ages.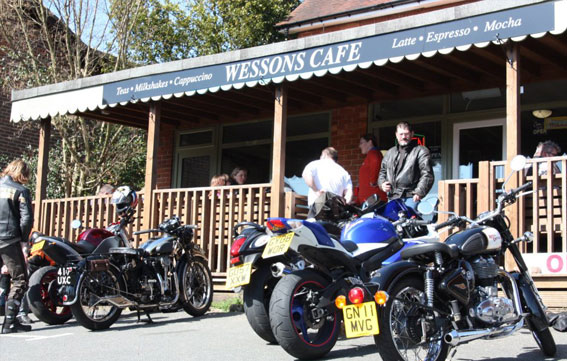 The Squires Café in Yorkshire
Where: Newthorpe Lane, Newthorpe, Leeds, West Yorkshire, LS25 5LX
Best for: Bike evenings, camping out, meet-ups
Rumbling along since 1954, this gem in the small town of Sherburn-in-Elmet hosts outstanding biker evenings every Wednesday, drawing in bike enthusiasts from all over Yorkshire and the north east. The café also has camping facilities, making it the ideal place for a meet-up if you have biker friends coming in from further afield.
Catfoss Café in Yorkshire
Where: Catfoss Lane,Brandsburton,, Driffield, East Riding of Yorkshire YO25 8EJ
Best for: Ride outs over private land, good, affordable food
Bikers truly are spoilt for choice when it comes to Yorkshire! What makes this Driffield café special is the fact that it is a purpose-built biker café on private land, so once you're in through the gate you can ride as you please to your heart's content. Complete with hearty and affordable grub, it's only open on Wednesdays during the winter months but it's certainly worth the trip.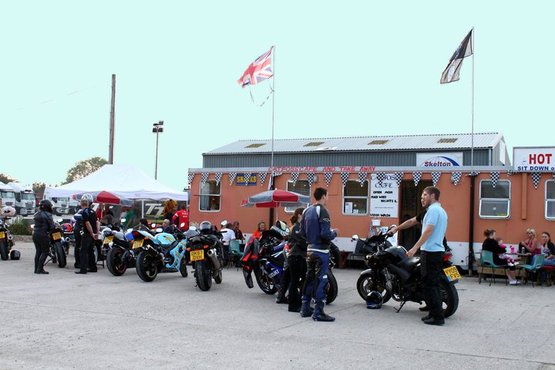 The Durlston Castle in Dorset
Where: Swanage, Dorset, BH19 2JL
Best for: Fresh seafood, sea views, warm atmosphere
Set in a castle beside the sea in Swanage, this has become a popular spot for bikers over the years. Serving great food, an al a carte menu and a self-service café, this gem has everything you could ever fancy. Couple that with the bracing sea air and the warm atmosphere and it's easy to see why this place does so well. As well as this, it's also surprisingly affordable.
Ace Café in London
Where: Ace Corner, N Circular Rd, Stonebridge, London, NW10 7UD
Best for: Fellow petrol heads, music and atmosphere
The Ace Café off the North Circular in London is passionate about two things: engines and rock n' roll. If you're a biker, a bike enthusiast or simply a lover of all things petrol, you'll certainly be welcome at the Ace Café where great food, motorcycles and music all combine to create a unique atmosphere. Filled with lovers of cars, bikes and engines, you're sure to leave here after some fascinating discussions with a new perspective. For bikers and bike fanatics in London, it's the go-to place.
H Café in Oxfordshire
Where: Oxford Rd, Dorchester, Wallingford, Oxfordshire, OX10 7LY
Best for: Late nights, biking roads, high quality local food
H Café is the perfect stopping point for any biker in Oxfordshire thanks to the fantastic biking roads that surround it, the café is open seven days a week and stays open late on Mondays to host their famous biker meetings.
As well as the great atmosphere and brilliant roads, H Café makes sure they serve tasty food too, including lunch time specials, all day breakfasts (particularly their famous bacon rolls) and a great range of hot and cold drinks. You can indulge happily knowing that all of their produce is sourced locally and is of the highest quality.
As H Café is in such a great central location with generous parking, it is the perfect place to meet up with friends or take a break before riding out.
Oakdene Bikers' Café in Kent
Where: Oakdene Café, London Rd, Wrotham TN15 7RR
Best for: Giant all-day breakfast, biker nights
The bike park is always full thanks to the great food and atmosphere on offer at Oakdene in Wrotham. The giant all-day breakfast is more than enough to satisfy any hungry biker, and every Wednesday and Sunday the café hosts the best biker nights in the area, drawing hordes of bikers to the Oakdene. Mix and mingle while showing off your bike at this authentic stopover.
The Ponderosa Café in Wales
Where: The Horseshoe Pass, Llangollen, LL20 8DR
Best for: Open country roads, B&B
This very friendly bikers' café in Llangollen, North Wales, is a fantastic stopping point for those exploring the wild Welsh countryside. Open country roads make for great biking, with a few sheep serving as moving obstacles on the way! With a full B&B service, the Ponderosa is great as a stopover during a long trip, and the great food on offer will keep you going for the next leg of your journey.
Pit Stop Diner in Stockton on Tees
Where: Bowesfield Ln, Stockton-on-Tees, Cleveland TS18 3HJ
Best for: Bike nights, BBQs, buffets
Awarded "Britain's Best Biking Spot" in 2010 by Motorcycle News, The Pit Stop Diner is renowned among bikers for its bike nights held every Tuesday and its fantastic All You Can Eat BBQs in the summer. A great place to meet up, the café boasts an outdoor eating area as well as its 30 seat indoor space, a take-away, collection and even delivery service and buffets and platters catering for all tastes.
With all bikers and bike enthusiasts welcome, it's the perfect place to meet if you're up North or near Stockton and Tees lucking for a break before you bike onward.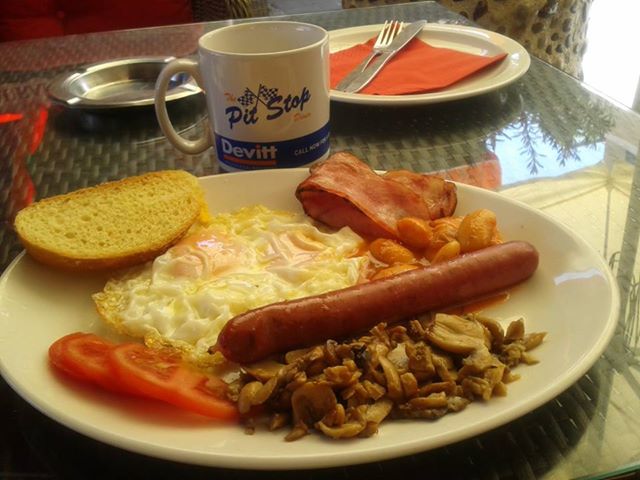 Upstairs Café @ Thunder Road in Bridgend
Where: Tremains Road, Bridgend, Mid Glamorgan, wales, CF31 1UA
Best for: Great bike store, well-priced food, 42" Plasma TV, showing MotoGP, WSB & BSB
Given a 5 out of 5 food hygiene rating, Thunder Road serves great quality, home cooked food. Be it a snack, a quick pit stop, a full-on home-made meal or an all-day brekkie, they serve it all! A great hit with local bikers and those that have ventured from further afield, the café is a fresh, modern space that reflects the pristine showrooms seen below in the shop. With fresh food made to order, there is a sofa area to lounge around and catch up with others, a kids menu, with a family friendly atmosphere and a great range of daily specials.
Whether you're a biker or merely a bike enthusiast, be sure to check out one of the best biker cafés near you – ideal for refuelling and meeting up with like-minded people before riding out on the open road once again.