Complete a National BikeSafe motorcycle safety course and receive 10% discount on your motorbike insurance with Devitt!
Devitt are proud sponsors of the National BikeSafe scheme, working together to encourage UK bikers to develop their post-training skills and improve their on-road safety. Motorcyclists are one of the most vulnerable road users, that's why professional police riders from all over the UK are joining forces through the BikeSafe scheme to keep you safe on your next ride.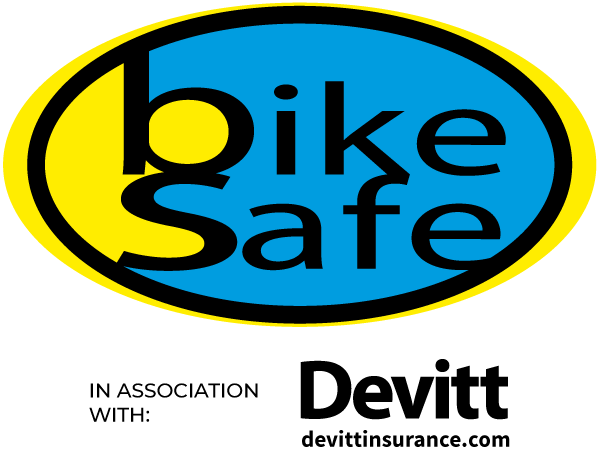 BikeSafe workshops cover a whole range of training including; rider attitude, systematic methods, collision causation, cornering, positioning, overtaking, observation, braking, hazard perception and use of gears – all things that we know at Devitt make for a great rider.
If you have completed a National BikeSafe course then Devitt recognise that by developing your skills that you are safe rider therefor are offering 10% discount on your motorbike insurance when insuring directly with us.
If you want to book onto a BikeSafe course, then visit the BikeSafe website here.
How to claim your 10% motorbike insurance discount 
To claim your 10% discount for your motorcycle insurance, simply click the 'Get your discounted quote' button in the banner above and you'll be taken to our dedicated BikeSafe quote system. Your 10% discount will be automatically applied to this quote. Alternatively, call our contact centre and inform one of our helpful advisors that you have come via BikeSafe to obtain your discount. The discount cannot be taken on quotes obtained through a comparison site.
This offer is for new insurance quotes only, it cannot be applied to existing policies. You must get a quote directly for Devitt (not through a comparison site or recalling a previous quote from a comparison site) by using the dedicated link, otherwise your 10% discount will not be applied. You must provide copies of your training certificates to us one you have purchased your insurance.
Rated Excellent from over 11,500 reviews
We compare prices from leading UK insurers to find you our cheapest insurance.
We're always here when you need us most. Claim service 24/7/365.
We send your insurance documents straight away by email. Get everything you need in minutes.
We don't leave you hanging around on the phone waiting for us to pick up.
December 3, 2023StarStarStarStarStar
review
December 2, 2023StarStarStarStarStar
Feedback from a few friends
December 2, 2023StarStarStarStarStar
Straight forward