Yamaha MT-03 Bike Overview
The Yamaha MT-03 could be described as a roadster with attitude. It is perfect to commute in city traffic and is a fun bike to ride even over long distances on the weekend. While its handling gets a full score, it could have done with a bit more torque to make the bike even more exciting.
Its engine is similar to the XT660 which has proved to be a reliable engine, which complements the cosy chassis well. There is ample torque available in the low and mid range, which makes it ideal for city driving and the fuel injection is seamless. While it is a great bike, it does not really qualify in the premium sports bike segment.
The seating position is forward inclined and comfortable, with the bike offering excellent agility. The braking is top notch and the throttle and clutch is brilliantly smooth. In terms of comfort, it boasts lateral suspensions (with side-mounted shocks) that give a smooth ride and manoeuvrability is spot on thanks to its excellent wide bars.
The company has paid attention to detail with the bike built to perfection. The engine is known for its reliability and the complete bike is a perfect example of Japanese engineering at its best. From its sporty original look to its great finish, the company has ensured that its quality stands out.
The body is angular in design and comes equipped with a digital speedometer and analogue rev meter which adds to its style. With a funky headlamp and sleek designing, it blends looks with overall performance.
Yamaha MT-03 Bike Spec
Top speed

100mph

Weight

175kg

Average fuel consumption

56mpg

Capacity

660cc

Seat height

805mm

Engine

Liquid cooled, four stroke, DOHC, 4v
Yamaha MT-03 Bike Insurance
Yamaha MT-03 Bike Gallery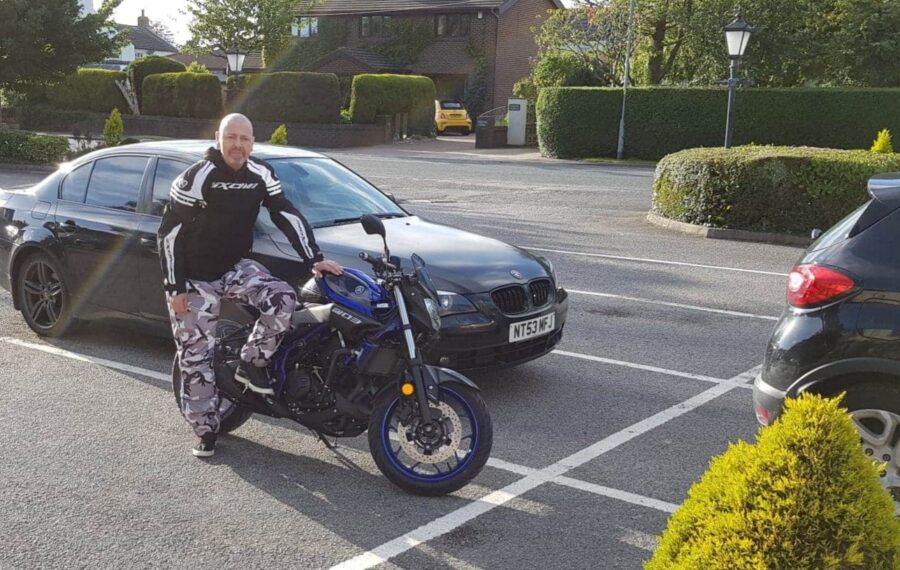 Owner Reviews
Pros
Fuel economy and handling
Read More
Comfort4 out of 5 stars
Comfortable for shorter journeys.
Build Quality4 out of 5 stars
So far a very reliable motorcycle.
Brake3 out of 5 stars
Brakes are not the best and have little feel.
Ride Quality5 out of 5 stars
Easy to turn into corners,very light on the steering and great in the twisted.
Engine3 out of 5 stars
Not too much power,great entry level motorcycle.
Running Cost4 out of 5 stars
Great fuel economy,cheap to run.
Pros
Excellent stylish bike in burnt orange, few around I've only seen one other where I live
Read More
Ride Quality5 out of 5 stars
Nice light weight bike with excellent handling in both wet and dry. It's a one cylinder so you do have to ensure your in the correct gear. Leans nicely into the bends with no loss of grip
Engine4 out of 5 stars
It performs well until 70 and after that takes a bit to get to top speed of 100. But for a 660 single it has held its own with sports bikes.
Running Cost5 out of 5 stars
The LCD
Build Quality5 out of 5 stars
Only complaint I have is the LCD screen difficult to get a second hand replacement and from other users I understand many of them go. I haven't marked it down for this as it still goes through an MOT. In the 7 years I've owned it usual brakes, tyre bearings and a shocker
Brake5 out of 5 stars
Can't fault them, does give a bit of slide in the wet on a quick stop but easy to control