Royal Enfield Meteor 350 Overview
Anglo-Indian brand Royal Enfield really hit the mark when it launched its 650 parallel twin range in 2018. The Interceptor and Continental GT were well-priced, handsome bikes, that also worked remarkably well as daily roadsters, fun Sunday cruisers and even mild tourers. A solid, well-developed chassis housed a characterful 47bhp air-cooled engine, and the whole riding experience was much more than the sum of its parts.
Could the firm do the same thing again with an overhauled entry-level single? It certainly had to: its old Bullet 350 and 500 single range was an anachronism, a genuinely 1950s-level design, still on sale in the 21st century. A whole new approach was needed – giving modern usability and performance, yet sticking with the Enfield ethos of simplicity, low cost, and suitability for less-developed markets as well as Europe.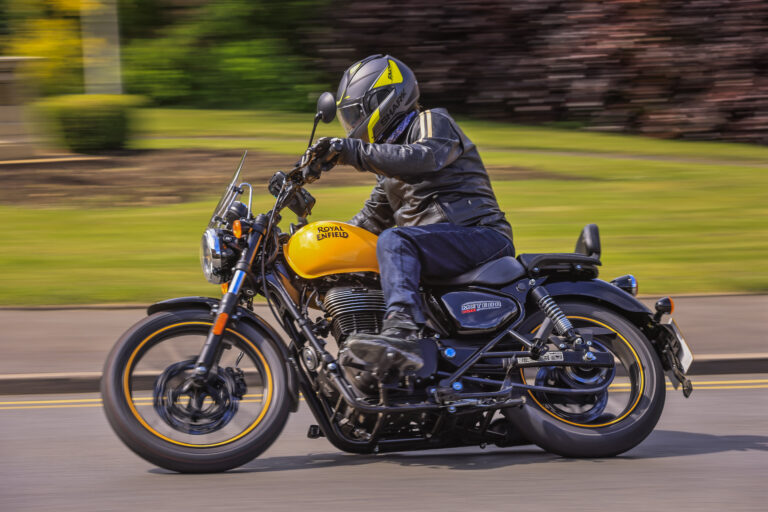 The Royal Enfield Meteor 350 was the answer, and it did seem to tick all the boxes from the off. An all-new engine took lessons from the 650s, mixing up a basic design – air-cooling, single cylinder, two-valve SOHC head – with only as much extra tech as strictly required (mostly a simple fuel injection setup for emissions regs, and a balancer shaft for politeness). The 349cc capacity comes from a 72mm bore and 85.8mm stroke (making it one of the very few long-stroke bike engine designs currently on sale) and the motor makes a round 20bhp, driving the rear wheel via a five-speed gearbox and chain final drive.
The chassis follows the same principles. It's basic: steel tube cradle frame, twin-shock rear suspension, conventional forks, cast aluminium wheels and Indian CEAT Zoom Plus tyres. There's a 'ByBre' entry-level brand brake caliper at each end: sliding twin piston up front and a single-piston rear, and the only real dash of chassis tech comes in the form of a dual-channel ABS setup.
Add in a single pod dashboard with an LCD panel, gear indicator and fuel gauge (but no tacho), a USB charging socket, and that's mostly it. Enfield also offers its Tripper turn-by-turn satellite navigation display as an optional extra, along with natty windshields, luggage, different seats and the like.
Quite a simple overall package then – but is it effective? Yes is the answer. Of course, a 191kg roadster with just 20bhp isn't going to set your lower garments alight. But the little Meteor is actually great fun to ride. Around town, the relaxed riding position and low-set pegs put you at ease straight away, and there's (just) enough oomph to keep ahead of traffic away from lights.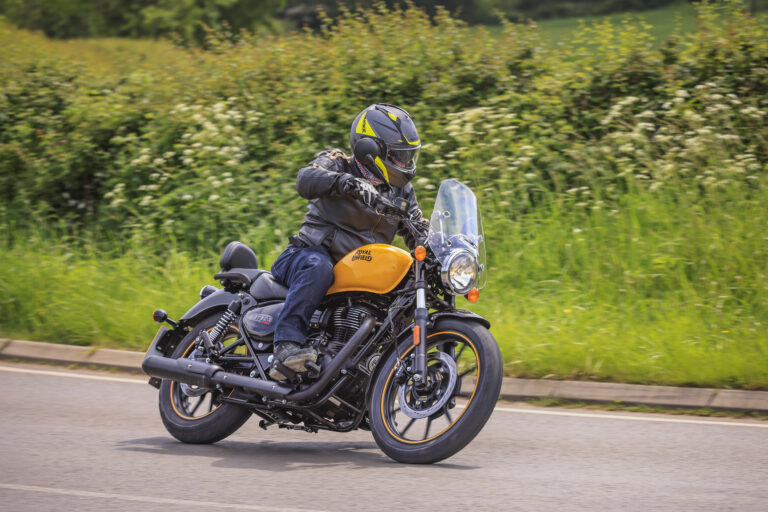 Get out of town, and on bendy 'B' roads, the trick is to maintain momentum as much as you can: once you're up towards the national speed limit, acceleration slows right down, and it takes a while to get back any velocity you lose. The chassis is just really friendly, giving predictable, stable handling with easy steering. The low pegs mean there's not a lot of ground clearance, and you'll soon be scraping a peg if you push matters – but the Meteor feels fine with these antics, happily sparking its way round the corner.
One downside is the brakes: the front caliper is low on feel and power, and needs a big old tug to stop in a hurry. The rear brake is stronger, but will reach its limit in terms of grip sooner. The stock tyres from Indian firm CEAT work well enough in dry conditions, but you might want to swap in something else from a bigger brand when it comes to replacement.
Fast 'A' roads and motorways are a bit of a chore on the Meteor sadly. You can see 75mph on the clocks fairly easily, with a few more revs to go. But it's right on the limit of being comfortable on a 2023 motorway, with 100mph Sprinter vans, trains of 56mph HGVs and boosted Teslas on Autopilot to dice with.
Keep it in its natural home though: urban areas and single-carriageway routes, and the Meteor is a fab little thing – especially at the price (£3749 when launched in 2021). Royal Enfield is also very good at sorting out demo rides on its bikes, so the best thing you can do is get down to your local dealer and check one out for yourself…
Royal Enfield Meteor 350 Insurance