BMW R 1250 RS Bike Overview
In the good old days before everyone started cutting about on adventure bikes, this was the sort of thing you bought for long distance touring with a sporting edge. The RS version of BMW's Boxer range has combined a full fairing, large tank and decent equipment levels with a strong engine and sporty chassis for decades now, and the R1250 is the latest version.
It's based on the latest 1250 Shiftcam Boxer engine, which is a corking lump that makes good power (around 135bhp) and strong torque, plus great fuel economy. There's shaft drive of course and excellent electronic rider aids – advanced traction control, cornering ABS, and up/down quickshifter all available as optional extras. You can dial up the luxury too, with keyless ignition, cruise control and sat-nav all available as extras.
Why choose this rather than an R1250 GS then? Well, it's much lower-slung, and while the GS can be hustled fast through a bend or two, the RS is definitely a sportier beastie. The riding position is more committed, it has proper sportsbike tyre sizes (120/70 17 and 180/55 17) and it's more aerodynamic, allowing a higher top speed than the GS's ocean-going yacht profile.
It's not lightweight though, and tips the scales at 243kg ready-to-ride. It hides that weight well enough in most circumstances, but if you push too hard, or try going large on a track day, for example, you'll become very aware of it very quickly…
It costs from £12,100 – but you'll soon increase that when you start ticking all the lovely options boxes!
BMW R 1250 RS Bike Spec
Seat height

820mm

Weight

243kg

Engine

Air/liquid-cooled four stroke flat twin engine, double overhead camshaft, one balance shaft and variable engine timing system BMW ShiftCam

Capacity

1,254cc

Top speed

200km/h+

Average fuel consumption

4.75 l/100km

Insurance group

-

Price

£12,100
BMW R 1250 RS Bike Insurance
BMW R 1250 RS Bike Gallery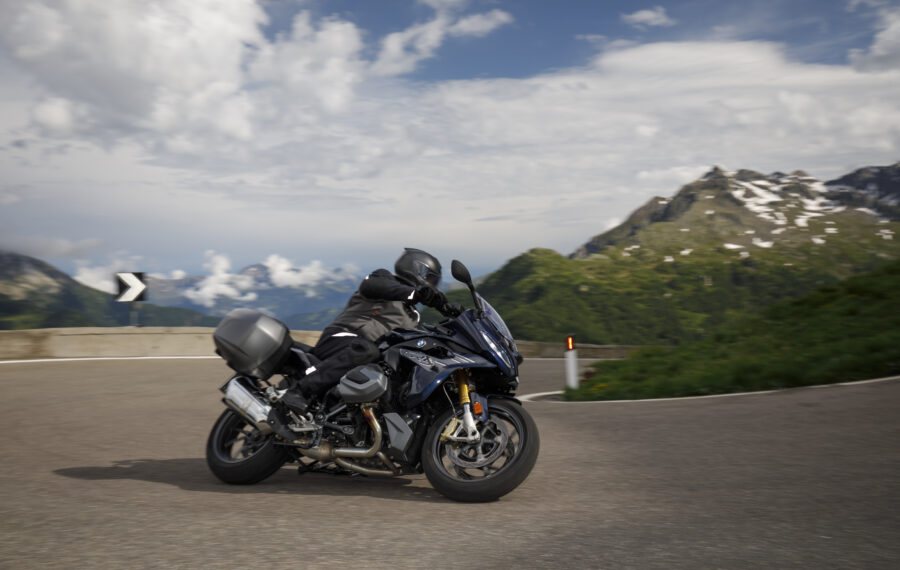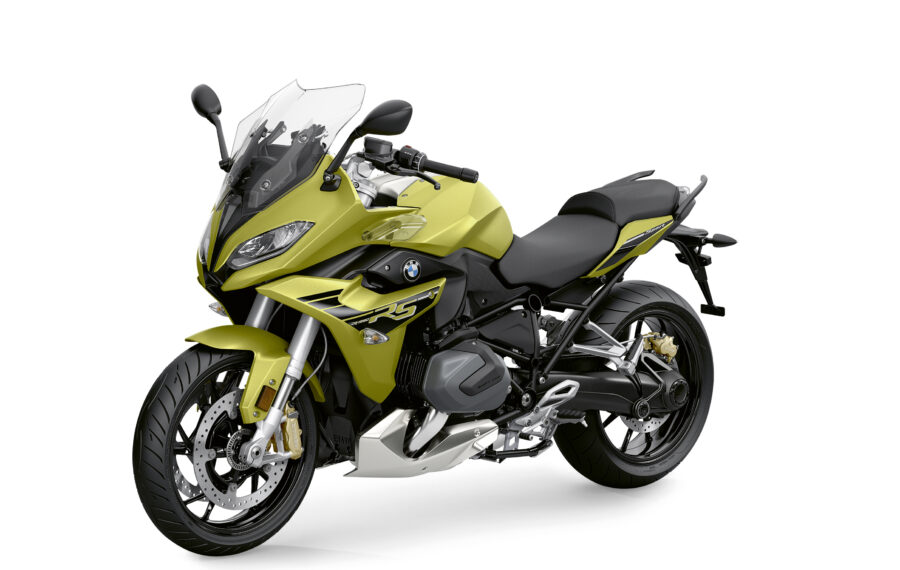 Owner Reviews
Pros
Handling and engine response.
Cons
Screen could provide better wind protection and I have fitted an MRA screen.
Read More
Comfort4 out of 5 stars
If you are dawdling for any length of time the riding position can cause my back to be uncomfortable. If I am making progress the fact I move about prevents this from happening.
Build Quality5 out of 5 stars
Seems excellent. No issues so far.
Brake4 out of 5 stars
Excellent grip and stops well. No dramas.
Ride Quality4 out of 5 stars
The weight is low so feels much easier to fling around than you might expect. It corners like a dream and I have total confidence in it. My only criticism is that the dynamic suspension gets caught out by big bumps and the jolt is significant.
Engine5 out of 5 stars
It is quick, okay not like my previous ZZR1400 but much more useable and manageable. Rain mode feels a little rough but since I have total confidence in the bikes ability in the wet I don't use it.
Running Cost4 out of 5 stars
To be honest I don't take much notice. Certainly no worse than previous bikes like my ZZR1400.
Cons
Smart phone holder + charger
Read More
Comfort3 out of 5 stars
Not tried yet
Build Quality5 out of 5 stars
German engineering
Brake5 out of 5 stars
Stops on a sixpence
Ride Quality5 out of 5 stars
Suits my laid back riding style but can hustle when required
Engine5 out of 5 stars
Enough power for me
Running Cost3 out of 5 stars
Fuel efficient but could do better with less CO2 emissions
Pros
Smiles as I easily reach the floor & of course the endless torque.
Read More
Comfort5 out of 5 stars
Rider and pillion positions are excellent & definitely built for long journey comfort.
Build Quality5 out of 5 stars
Build quality is typically German quality, detail amazing and of course all the gizmos (gearshift, Pro up & down with auto blip, cruise control, led automatic lights). Auto adjustable electronic suspension all standard & ultra reliable.
Brake5 out of 5 stars
The Brembo brakes are more than adequate, especially with the ABS Pro and I have never had any issue with grip from the fitted Road pilot 4s but of course the leaning traction control & all the other toys do help.
Ride Quality5 out of 5 stars
The handling is amazing with the low slung boxer engine making it feel like a much lighter bike and so smooth through the twisty roads
Engine5 out of 5 stars
The engine and power delivery are fantastic. Previous bike R1200rs Sport now feels quite slow. 137BHP reported I have the HP Akra fitted which is supposed to boost that figure.
Running Cost5 out of 5 stars
Fuel economy is truly amazing with the shift cam technology returning an average of 68 mpg, totally different from previous bikes. That gave me smiles per gallon this machine gives both in plenty.