If you're looking for the coolest motorcycle gear and accessories, then as Dennis Edwards sang back in 1984, 'don't look any further'…
You'll find our collection of cool biker stuff featuring beautiful products from start-ups and small businesses to bigger manufacturers, all who happen to sell some of the coolest, new-wave, urban, custom-styled motorcycle products around.
None of these suggestions are for our own profit or affiliate links, we just like the products and we think you will too. We did want to find a clever title for this feature, but after various long-winded ideas we decided to simply stick with the working title of 'cool motorbike stuff' as it does exactly what it says on the tin!
We've got products made across the world, with a particular focus on motorcycle products that are made in the UK. You might notice there are lots of custom bike builders on our list who have turned their hand to motorbike apparel and we love it!
We've got Italian helmets, British jackets tested over 4,000 miles, London's most well-known MC cafe's clothing, items for your coffee table, neck tubes, bracelets handmade in Amsterdam from ship rope, bike magazines from the US and much, much more… You're about to discover your latest favourite motorcycle product.
Thank us later.
Gallery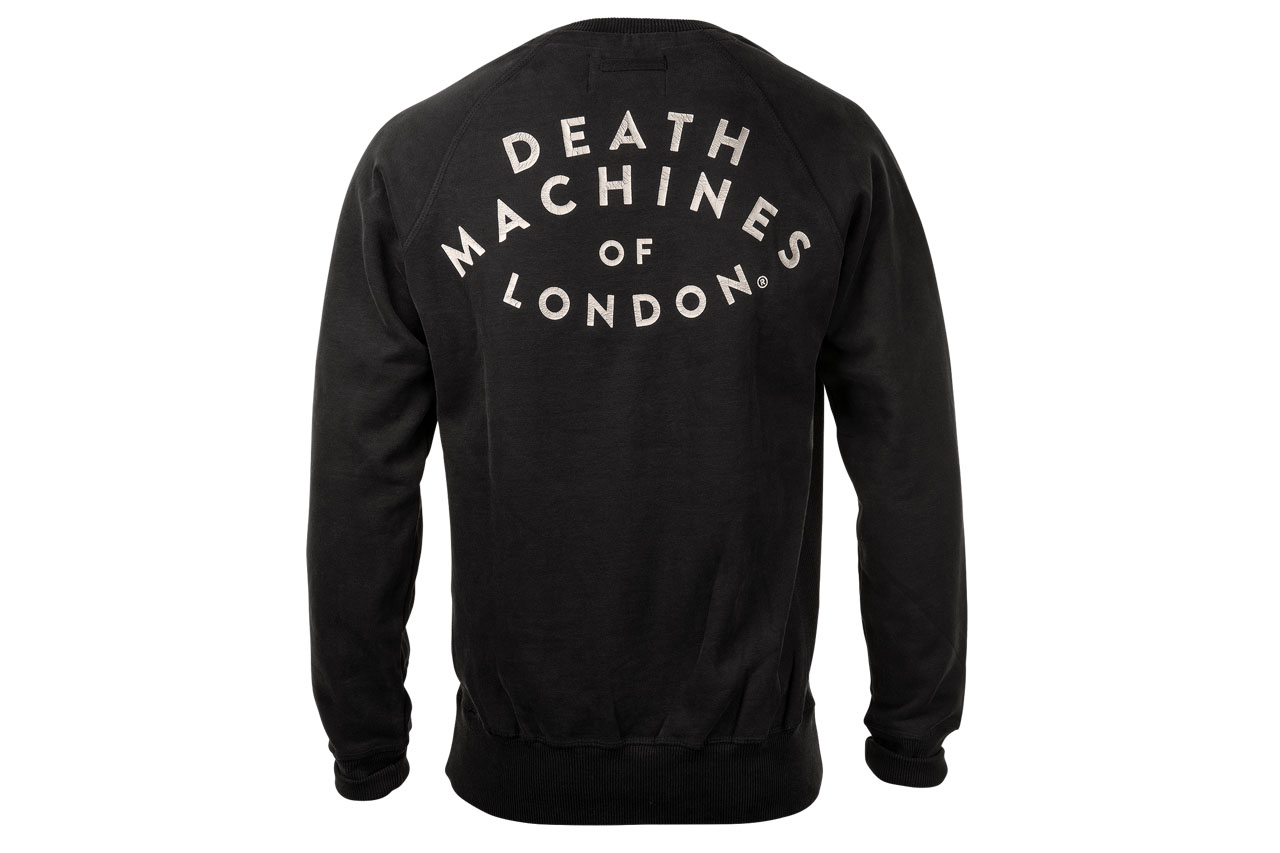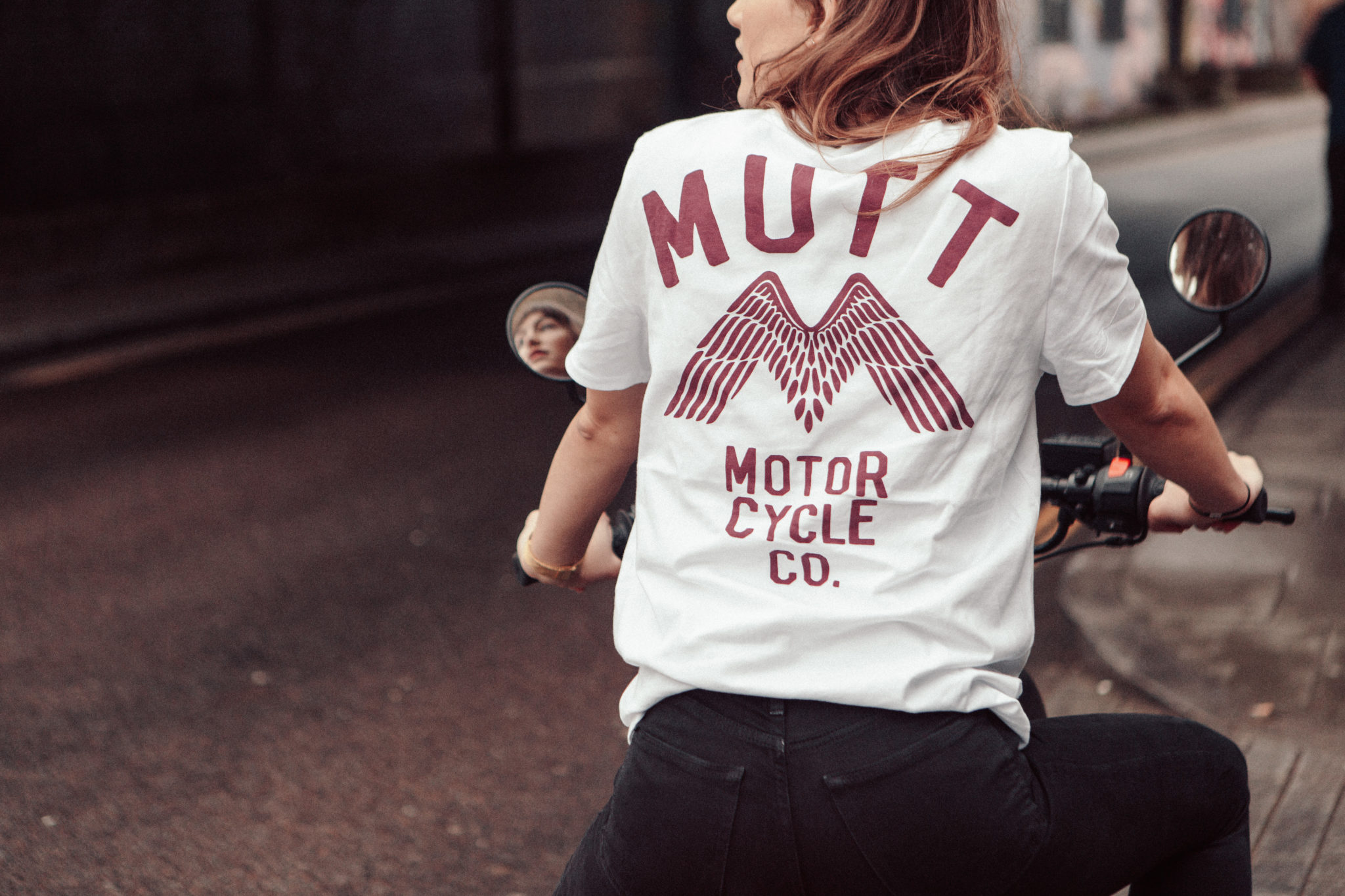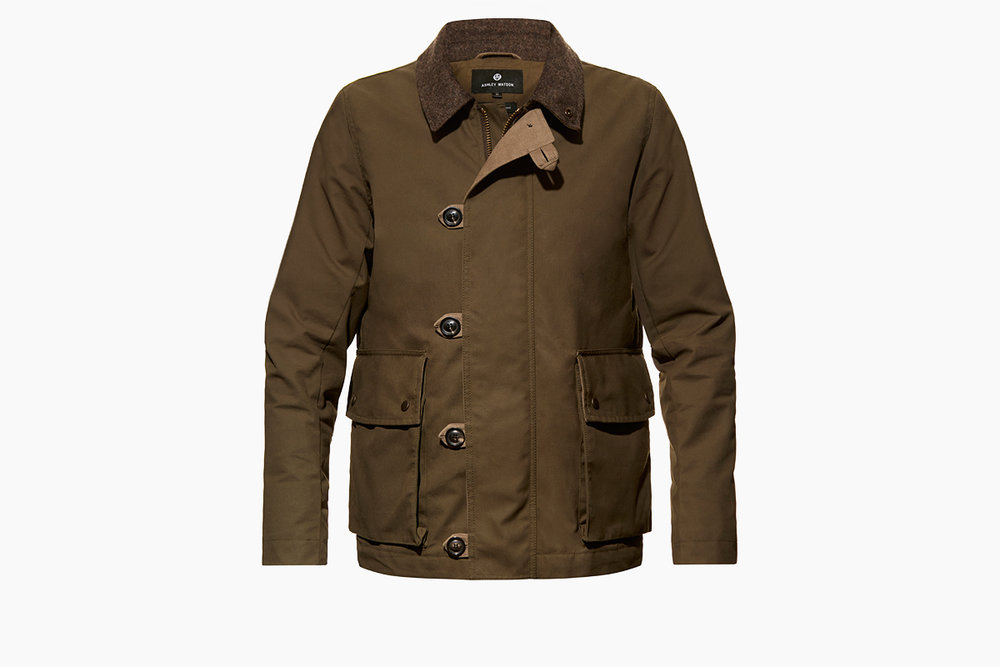 Death Machines of London
Incredible bespoke motorcycles (and their clothing is the nuts)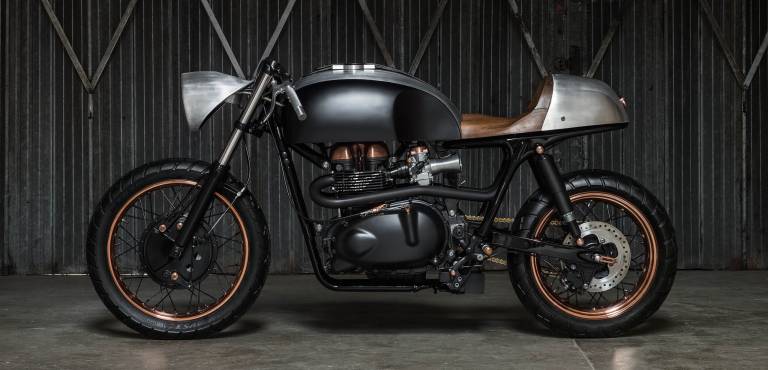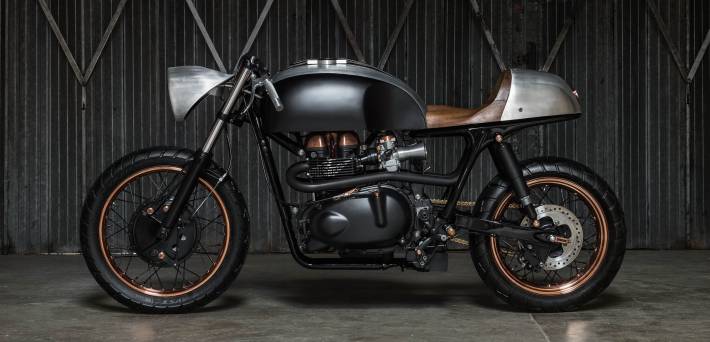 Death Machines of London don't build bikes that are intended to cause your death, it's a nod to their own mortality and taken from words of wisdom given to one of the co-founders by his father. Their UYC (Up Yours Copper), which is pictured above, is built from the remains of a 2007 Triumph Thruxton 900 and is all about the detail – this ethos is reflected in their clothing too.
DMOL's Airforce was built as a tribute to Mr Giovanni Ravelli, co-founder of Moto Guzzi. Known as 'The Italian Devil', he was a World War I fighter pilot and motorcycle racer and boy, does the bike do him justice.
Not only do they create jaw-dropping bikes, but they know what they're doing when it comes to clothing too. Their trademark DMOL bolt features heavily and it looks cracking… literally. Their crack-print is designed to do exactly that, so after a couple of washes the print begins to crack, looking weathered, worn and quite simply brilliant.
Gallery
BSMC
A fantastic venue and their clothing ain't too shabby either!
If you've ever visited The Bike Shed MC or The Bike Shed London Show at Tobacco Dock, then you should know a little bit about these guys.
If you haven't frequented their venue or London show yet, then grab your bike, your mates, your camera, your kids, whatever floats your boat and get down there to check out the latest and greatest custom builds from pros and non-pros alike. You can pick up some proper tasty grub too. Fast becoming the most well-known motorcycle club / café, BSMC are the new-wave, coolest muthas on the block. Having dropped a new range of gear mid-2018, you'd be a mug to not own at least one BSMC branded item.
Check out some of their collaborations including the  'Shed ring' made by the The Great Frog (a London-based biker-style jewellery maker) and their BSMC Dukes & Son Cuff, individually hand-embossed in leather; wicked accessories for a Bike Shed loving rider.
Gallery
Ashley Watson
Beautiful, functional and technical motorcycle clothing
Not many brands lay claim to the fact that the owner / designer have tested their product on a motorcycle through various terrains over 4,000 miles, Ashley Watson can. Ashley Watson design functional and technical specialist motorcycle clothing for on and off your bike. Ashley's passion for riding is evident in his designs, his online journal and ultimately his motorcycle gear, this stuff isn't for the fair-weather rider.
The kit is designed to take anything that the world throws at you and we're not just talking about the English rain. The Eversholt Jacket is lined with Dyneema, a fabric 15x stronger than steel, alongside armour made from the incredible UK invention of D30.
The high-performance protection of the Eversholt Jacket is their trademark piece and fully waterproof; it's a whole new level of motorcycle clothing and one you need to feast your eyes on, especially if you're into rough terrain riding.
Gallery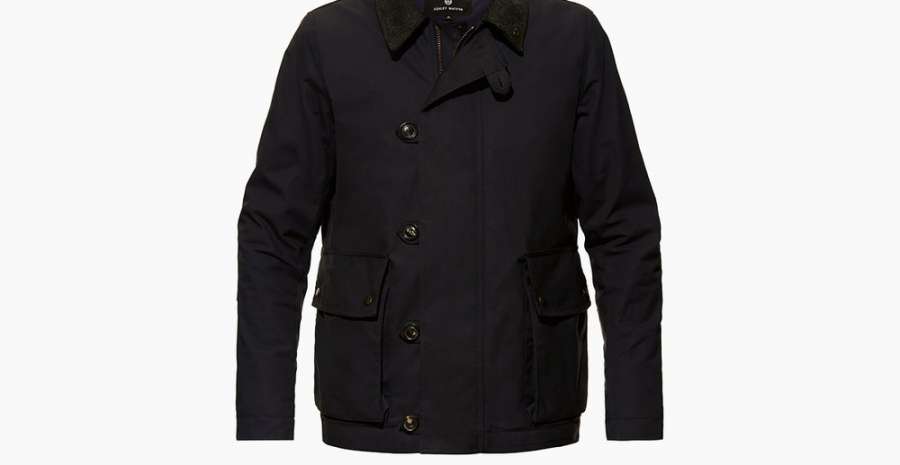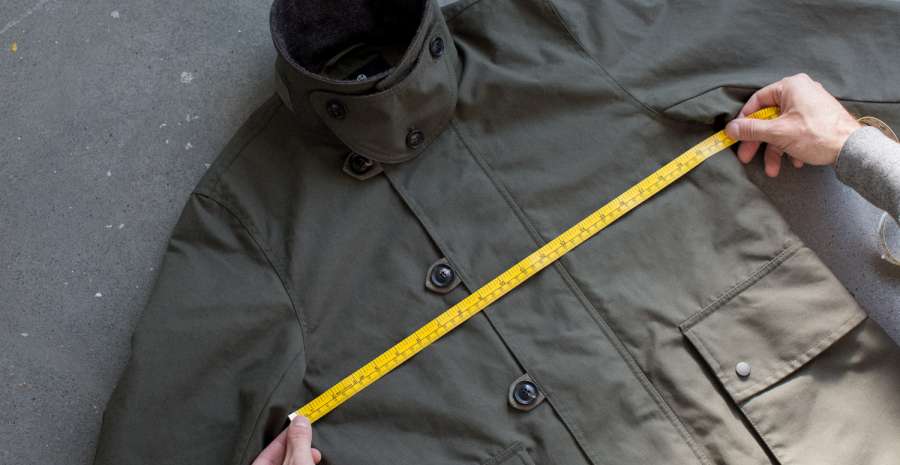 The Eversholt Jacket is lined with Dyneema, a fabric 15x stronger than steel, alongside armour made from the incredible UK invention of D30.
Sideburn Magazine Merch
It's all limited edition so: "If you like it, get it"
We're no longer in the 1990s when sideburns were all the rage, instead we're in a beard and beard oil kinda phase. Perhaps a nod back to simpler times, when a man could knock out a pair of mutton-chops and be happy with his manliness, Sideburn Magazine was started in 2008 by Gary Inman and his love of flat track racing. The magazine covered everything else motorcycle-related from cult films to off-road trips and photography.
You'll struggle to attend a motorcycle event without spotting a trendy looking rider, supporting a Sideburn Magazine tee.
The Sideburn webshop, not only allows you to purchase their recent back catalogue, but also a selection of cool designs from Peanut to Jeffery Carver support, even to a Dirt Devil glow in the dark tee for the more adventurous t-shirt wearer. If your budget doesn't stretch to a t-shirt then you can turn to a pair of socks, patch or pin badge.
Gallery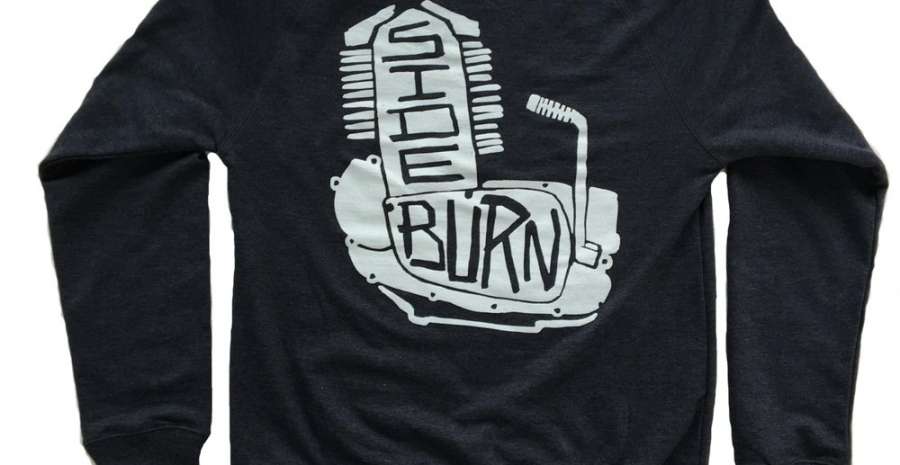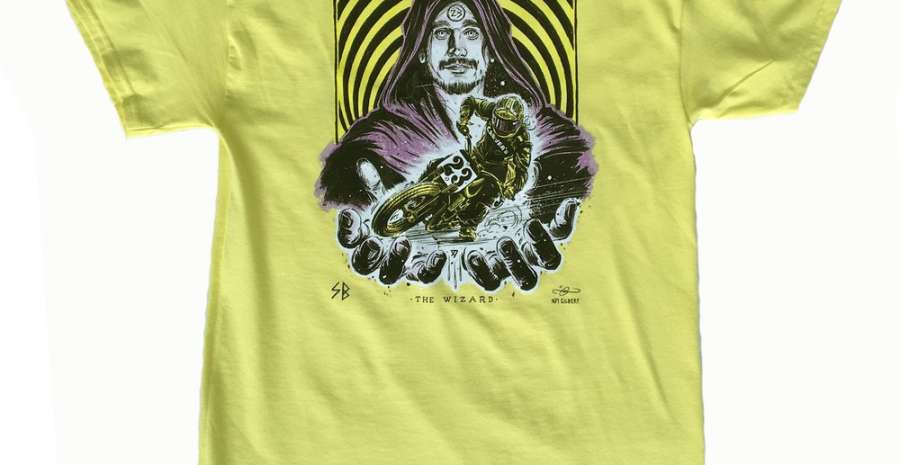 Bolt Motorcycles London
Another custom builder knocking out quality attire!
With designs inspired by motorcycle heritage with a timeless style, Bolt's roots are firmly set within their motorcycle garage. Like many other brands on our list, they've had a crack at apparel and it appear these boys have a damn good eye for style as well as bikes.
Bolt's online shop stocks some of the greatest custom-styled brands around including Hedon, Malle and Deus ex Machine, but we're here to talk about Bolt branded clothing. Jumpers, tees, leather jackets, key tags, wallets, tool rolls, belts and helmets, Bolt appear to know a thing or two about what riders need. Get involved.
Gallery
Caberg
Italian helmets for riders who don't want to go unnoticed!
Italian helmets since 1974, Caberg are innovative and safety conscious in equal measures, a pretty good combination for any motorcycle helmet manufacturer. Not to be confused with the lager than questionably claims to be probably the best lager in the world…
The Caberg Ghost Jet Helmet is one to look out for, with a tricomposite of fibre glass, Kevlar and carbon, the designs available on this bad boy are enough to make any rider weak at the knees. Coming in designs including matt black, matt gun metal, iron and rusty, these helmets are effortlessly combined looking-good with safety and functionality.
Gallery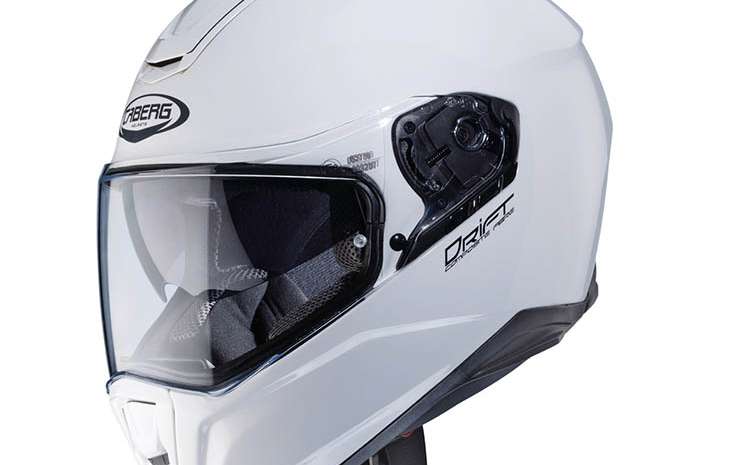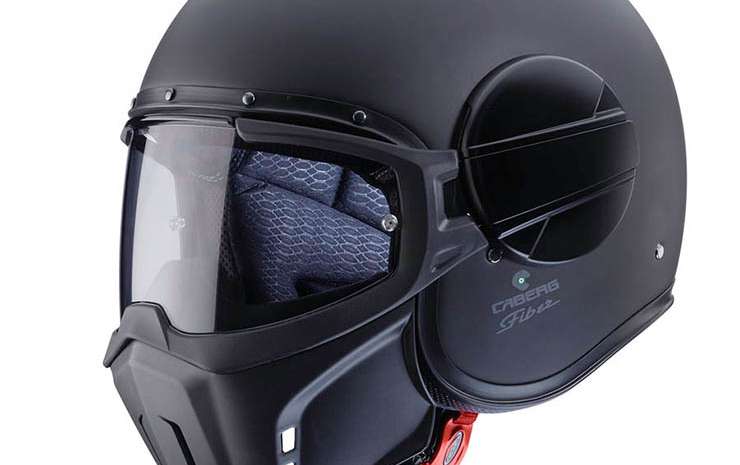 Mutt Motorcycles
Super cool retro styled bikes (and clothes)!
From the Sabbath to the Blackest Sabbath to the Fat Sabbath, Mutt Motorcycles create some of the coolest, small cc'd retro bikes on the market. Mainly offering 125s, Mutt also offer 250ccs for those who have started on the Mutt 125s and still want to stay true to the Mutt lifestyle but want to pack a bit more power to their punch. Once again, motorcycle engineers and designers, showing how easy they find it to produce clothing that riders just need to wear.
Mutt offer the usual cool apparel from the like of Deus, but also their own retro styled designs with a wide range of caps, sweats, hoodies and tees – you won't go far wrong in bagging one of these for your motorcycle-loving loved one. It's that doggy-dog style…
Gallery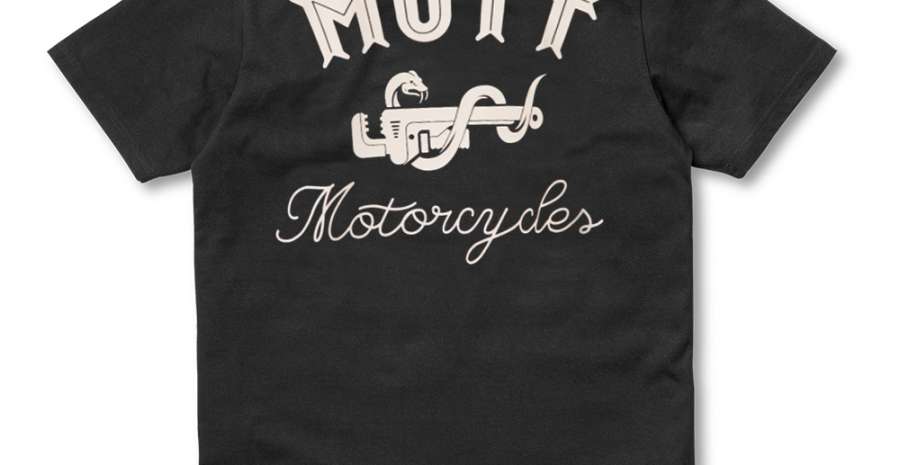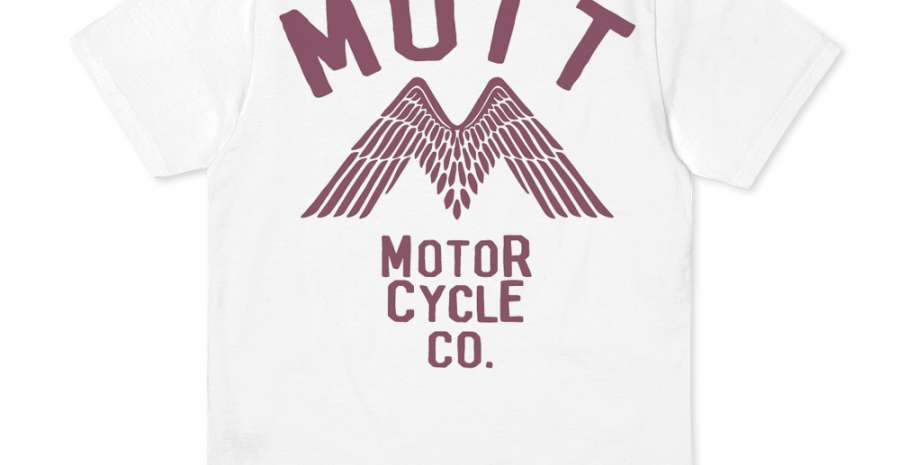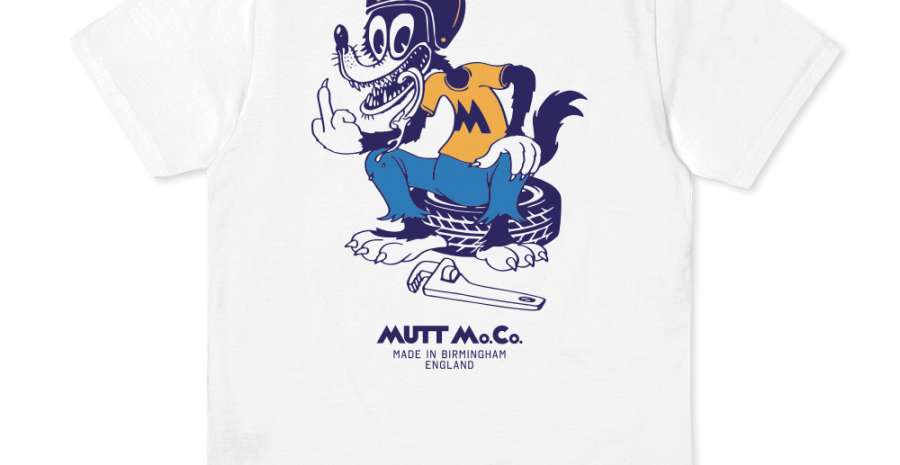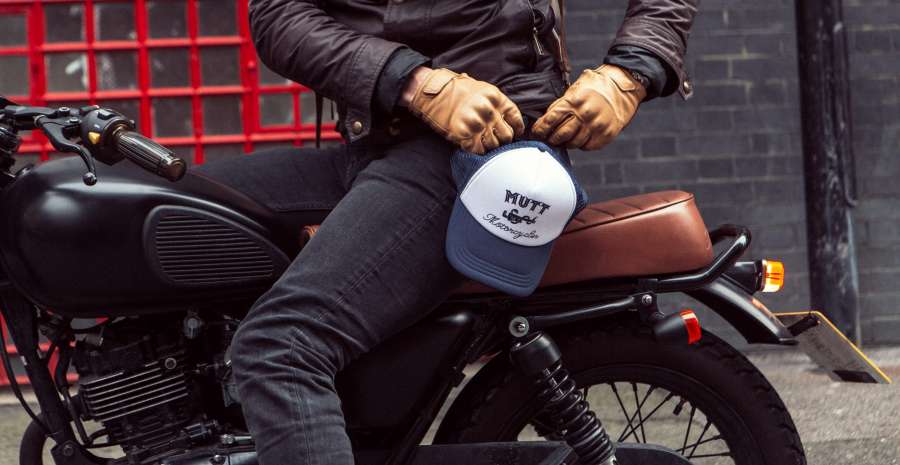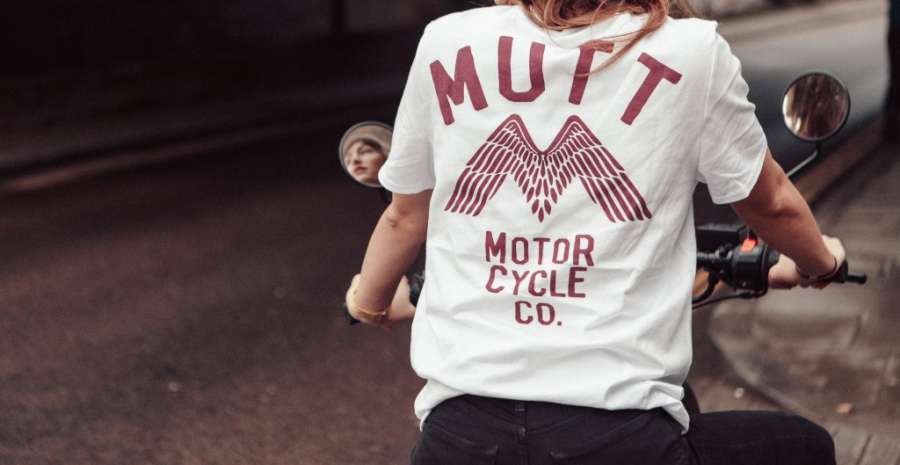 Iron & Air Magazine
Rethinking the motorcycle-based publication – with cool clothing to boot!
Banging out a motorcycle rag that they wanted to read, Iron & Air are a US company that love motorcycles and enjoy finding stories that bring riders together. Iron & Air mag is a perfect 114 page addition to any coffee table.
If you're not satisfied with a great read when kicking back, but love the look of their brand, then get your online-self down to their shop, where you'll find luggage, grooming products, footwear and more from some quality brands. But, we're here to talk about their own apparel… Iron & Air produce their own tees, including the 'Live Free or Die' and 'StanCan' designs. Well worth checking out.
Gallery
Kreiga
Stylish backpacks & luggage
Another story of producing the motorcycle gear they want to see, Kreiga was born in 2000, from designers and riders. They filled a gap in the motorcycle luggage industry for high-quality, well-designed luggage. Declaring themselves as a non-fashion brand, that prides itself on functionality over trendy ambitions, they appear to have smashed the lot!
Now they're some of the most highly desirable motorcycle luggage on the market, the passion and craftsmanship has shone through to help them become a major brand in the motorcycle industry.
Whatever kind of 'rider pack' you're looking for, then Kreiga can tick all of your boxes, including a backpack, hydration pack, waist pack or messenger bag. With a 10 year guarantee, you're going to get value for money, functionality and style.
Gallery
Biltwell Inc.
From helmets & gear to parts & accessories *Quality Counts*
"Any motorcycle part designed, manufactured or sold for the sole purpose of making its owner look like a tough guy (think $189 tribal-flamed billet shifter nob) is a waste of time and money."
You can see from the above quote in Biltwell Inc's manifesto that they don't like try-hards, bad-boys or biker-bravado.
These guys aren't about a biker scene, but more about action sports, hard-work, value and performance.
Taking inspiration from a love of the outdoors, including surfing, skating and BMX, Biltwell are all about building, riding and enjoying motorcycles. You've got a massive amount of choice with Biltwell from accessories and apparel to parts and helmets.
Take a look.
Gallery
Holy Freedom
Italian accessories, neck tubes and scarfs
Another Italian brand to get your 'laughing gear' around, or to get around your 'laughing gear'… Holy Freedom bring some cool apparel influenced once-again by the custom bike scene, all the way from Parma.
They specialise in creative designs for caps and neck tubes, but offer tees and sleeves too. Treated with Primaloft, known for it's antibacterial properties, so even the slobberiest of bikers can be safe in the knowledge their Holy Freedom neck tube / snood / bandana is fast-drying and soft.
Heavily featuring lightning and arrows, they stick to a custom rider style so you're not in any danger of someone mistaking one of these for a cravat. Arnaldo Upali, the father of Holy Freedom says "Stay wild, stay custom" so make of that what you will…
Gallery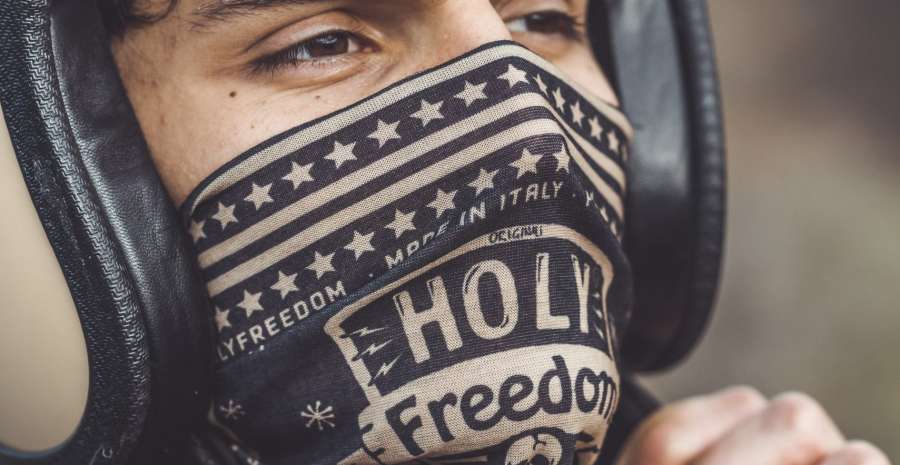 Davida helmets
Luxury helmets hand-built in England
Davida understand the importance of good kit that aesthetically pleasing and functional. Specialising in open face helmets, Davida manufacture their products in the UK and have a classic custom style, that even the most hipster inspired rider can appreciate.
Their retro insprired googles are also worth a look, mainly aviation inspired, they use leather and different frame colours including gold, chrome and gunmetal.
David Fiddaman, AKA Fid the Lid, states their helmets 'seem to look right whatever the decade' and we think he might be right.
Gallery
Red Wing Footwear
Just wingin' it
Finding suitable footwear to ride in is a dreaded job for any motorcyclist, you need to be comfortable, protected and, of course, stylish. Red Wing Footwear allow you to do just that. Even if you're not out and about on your motorbike, these boots are perfect for all year round use.
Red Wing have been established since 1905 with all their boots and shoes still being manufactured and handcrafted in the USA, Red Wing stick to their ethos of making 'truly good shoes'. All the boots have varying heights depending on how much protection you need, or how trendy you're feeling and fitted with From the Iron Ranger to Chukkas and Oxfords, you're truly spoilt for choice.
Gallery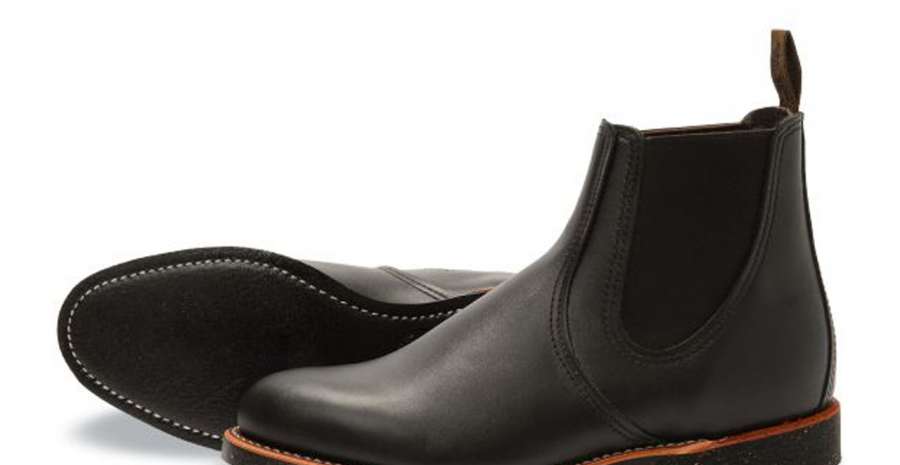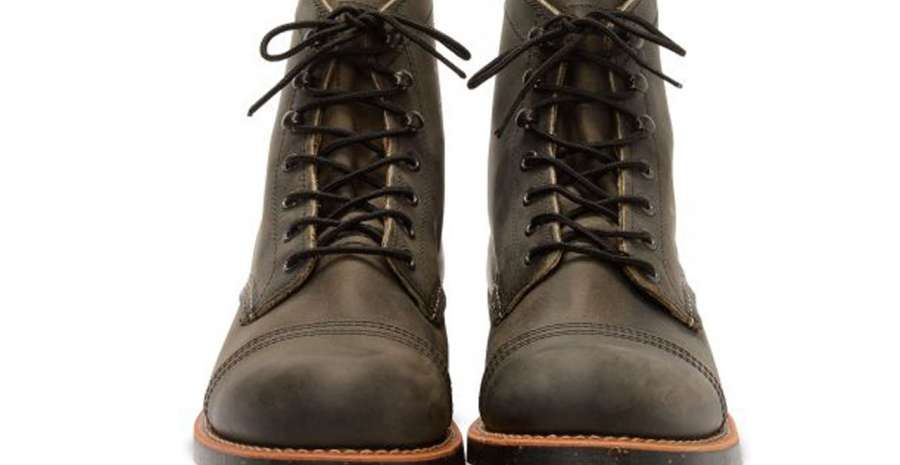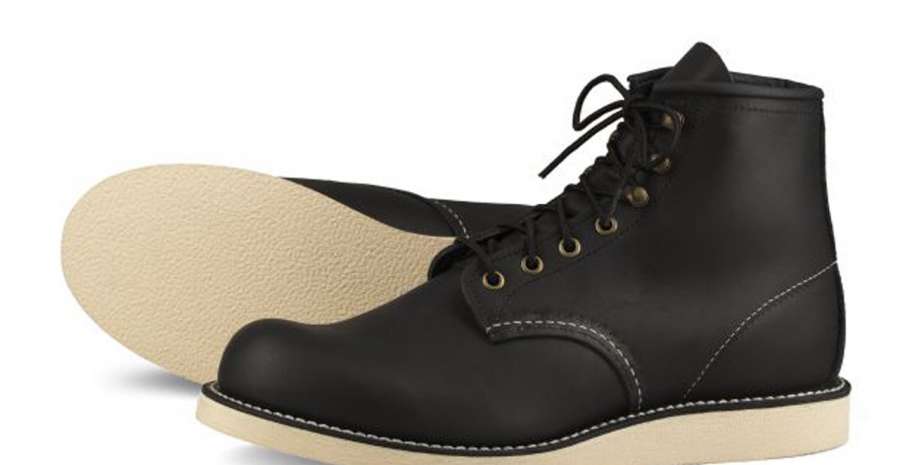 Krazy Horse
Genuine Wild Rides
You've probably seen Krazy Horse making noise in the motorcycling market for a few years now, although it all started up back in 1996. Paul Beamish had no idea that whilst he was busy working away on creating an authentic American chopper out of a beat-up Harley, that he was actually paving the way for Krazy Horse.
Before he knew it, Paul was selling old Harleys and building custom bikes in an old shed in his back garden. Now fast-forward a few years to the year 2000 when Krazy Horse moved into their very first premises in Bury St Edmunds. As the years have flown by, now they have two impressive showrooms in Bury St Edmunds and one in London!
Not only are Krazy Horse teaming up with the likes of Guy Martin, when they built the modified Indian Scout for his Wall of Death record attempt AND forming their own Krazy Horse Flat-Track race team, but they're hosting regular biker nights and events too! Can't afford to bag yourself a custom Krazy Horse machine? Well don't be disheartened because they've got a wicked selection of t-shirts on offer in store and online.
Gallery
Auto Fabrica
Every step from design to production
Two brotherse, Nujar and Gazmend, formed Auto Fabrica back in 2013 and they dedicate their passion to hand making and building bespoke motorcycles. Based in Southend-on-Sea, London's favourite seaside town, Auto Fabrica are working tirelessly to design, prototype and manufacturer every single concept into a real life motorbike.
You need to check out the Motorcyclopedia featuring every single 'type' of motorcycle they've designed and created over the years, there's certainly something that will appeal to anyone with a wide array of machines on offer. They've also got a slick range of clothing from sweats to tees and beanies, so you can look the part when you're dreaming up your next machine from Auto Fabrica.
Gallery
Bell Helmets
That Spaceman vibe!
You would have had to be living under a rock to not know about Bell helmets before now. They have been manufacturing helmets since 1954 covering all areas for motorcycling from racing on track, off road and even cycling.
All Bell helmets are purpose built – the new Bullitt range gives that 1960 retro feel but still meeting all your modern day safety needs and requirements. The helmet is made from low-profile Fibre Composite for the shell, Magnefusion shield closure system and a narrow chin guard with a single vent. If you're going for that vintage classic vibe then this could be the helmet for you!
Gallery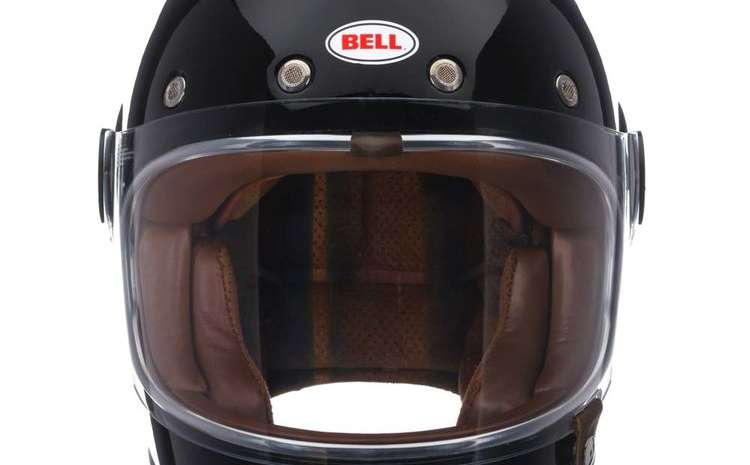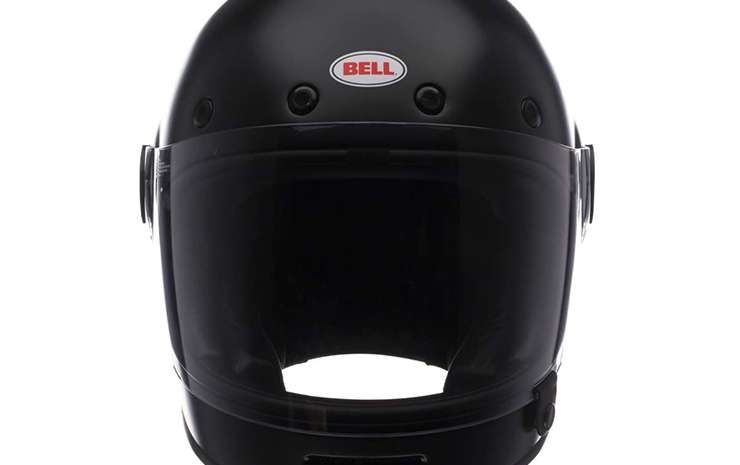 Bell exists to inspire and enable the next generation of boundary breakers
Pig and Hen
Strong than steel
Flashback to the 1600's, the Dutch were busy sailing to unknown parts of the world battling new lands and obstacles on their voyage. All the sailors had a tattoo of a Pig and a Hen on their feet; it was believed by many that it gave the sailors the ability to survive when they ultimately had to abandon ship. Just like the Pig and Hen who were kept in the wooden grates, they let the tide bring them home.
Pig and Hen bracelets are handmade, in Amsterdam, from authentic ship rope to carry on the Dutch legacy keeping you protected. This bracelet will truly last you a lifetime, so whether it's a Salty Steve, Icy Ike or a Fat Fred then it's time to get shopping with Pig and Hen.
Gallery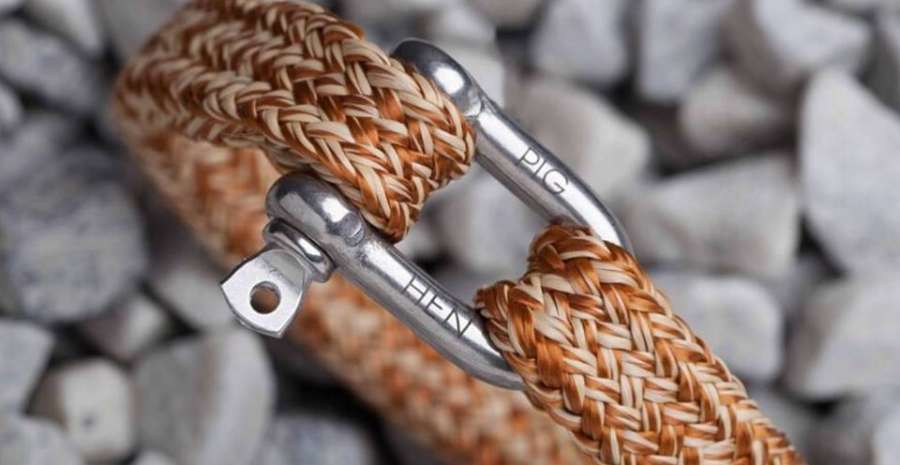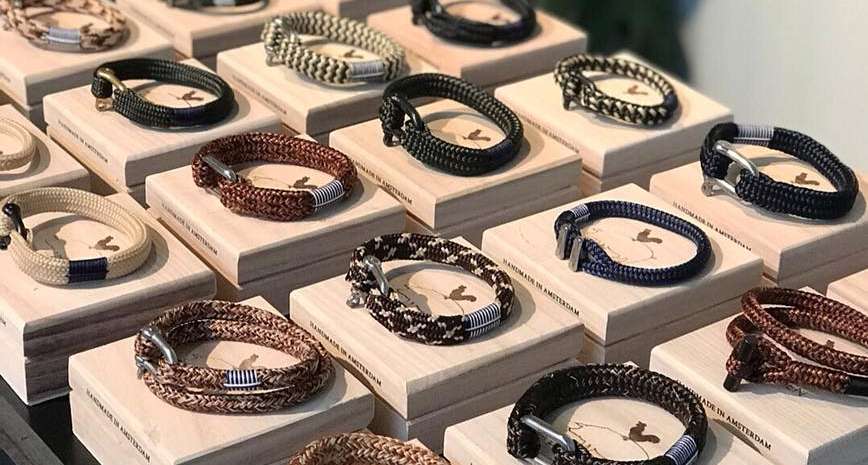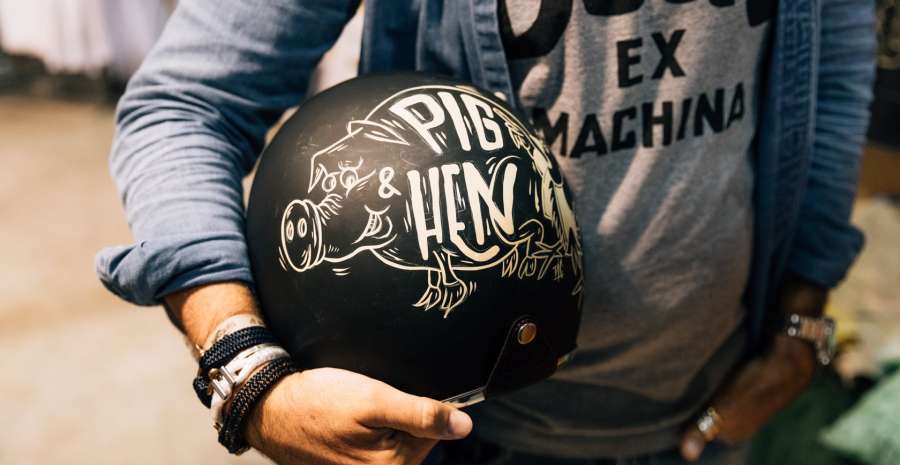 Hurley Custom Seats
What the difference a seat makes!
Fancy making your motorbike one in a million? Why not get yourself a tailor made seat by Hurley Custom Seats. Based in Scotland, Hurley Custom Seats are a small independent motorcycle seat upholstery shop and trim shop, sharing one passion of crafting the most amazing motorcycle seats. All seats are handcrafted to perfection using a range of different upholstery materials; Marine Vinyl, Vintage and Weather Resistant Leather and lots more.
All seats are tailored to exactly what you want, including colours and style. Your bike really will stand out from the crowd! Just need a refurb? They also offer a repairs service offering re-stuffing, cover repairs and stitching fixes. Shopping is worldwide so if you're not UK based then you're not going to miss out…
Gallery
The Great Frog
Homemade and bespoke rock & roll jewellery since 1972!
Based in London's Carnaby Street, The Great Frog has been carefully crafting bespoke jewellery for all you rock & rollers out there!
Working away in the basement underneath the flagship London store, The Great Frog use traditional methods by hand carving the design into wax, casting in .925 sterling silver and then all pieces are finished by hand, to a high standard. It's clear to see why The Great Frog has become a must-have accessory.
You may have seen a few items pieces on rock and roll legends including Iron Maiden, Aerosmith, Lady Gage and David Beckham, to name just a few. It started with jewellery but over the years the Great Frog has branched out with its own accessories and apparel, including; patches, t-shirts and hoodies and other great gift ideas. There are also other Great Frog outlets across the globe including New York, Los Angeles, Japan and a concession stand in The Bike Shed, London.
Gallery
Originators of the infamous skull ring
deBolex
Motorcycles like no other
You may  know deBolex for their insane motorcycles, but they've also recently launched their own line of tee's, hoodies and other products. For those of you who don't know deBolex then allow us to introduce them. Based in Croydon, deBolex was founded by Calum Pryce-Tidd who spent his whole life surrounded by motorcycles and cars, both his father and grandfather were proud owners of Vincent's who clocked up thousands of miles each year, it was inevitable that Calum would follow in their footsteps.
The process behind deBolex machines is similar to the 50s and 60s racing era, it's all about lightweight bodywork and perfectly performing engines. It's a truly unique style but with more reliability than the past. Check out the latest range of deBolex machines and their clothing line too. Simple t-shirts with a statement logo, showing your support for this great London start up.
Gallery
"It is an important part of our ethos not to tear up a great production bike to make something potentially harder or less practical to ride, but more to celebrate the efforts of the manufacturer by retaining the core of the bike and redressing it with new lightweight bodywork with some upgraded components."