Triumph Trident 660 Overview
The Trident moniker is perhaps a strange choice for this bike. Because the 2021 Triumph Trident 660 is very much an entry-level machine, aimed at novices, and experienced riders downsizing from bigger bikes. By way of contrast, previous Triumph Trident models have been at the other end of the scale: first the old 740cc Trident, an air-cooled six-valve triple from the 1970s which shared its motor with the BSA Hurricane, then the 750 and 900 water-cooled 12-valve Trident naked roadsters released by the 'new' Hinckley Triumph firm in the early 1990s. Big, hefty, bruiser bikes, with enormous engines, which sat at the top of Triumph's ranges of the time.
This latest Trident has a slightly confused identity in comparison. On the face of it, it's not a million miles from the Street Triple range of roadsters – which has used a 660cc three-cylinder engine in an unusual base A2 licence-friendly format, and 675 or 765cc engines in the higher-spec S, R and RS models. But the Trident actually has its own engine design, with a different bore and stroke and a load of internal parts changes to suit its new role. It's still a DOHC 12-valve water-cooled triple with six-speed gearbox and fuel injection – but it makes a healthy 80bhp, and can also be supplied in A2-compatible restricted form.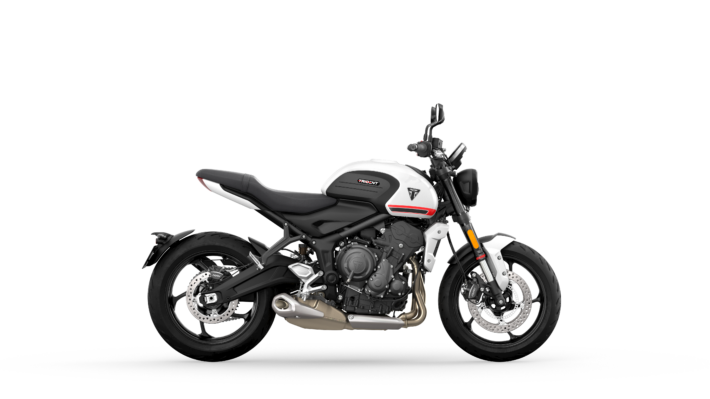 The compact motor lives in a bespoke steel tube perimeter frame (as opposed to the Street Triple's pricier aluminium design), with cast aluminium swingarm, and a basic Showa suspension package. You get USD front forks and a monoshock, but the only adjustment is preload at the back. Similarly, the brakes use cheaper Nissin twin-piston sliding calipers up front instead of the Brembo four-piston jobs on the high end Street Triples. They work well – but are down on outright performance compared with posher stoppers. It's a lightweight machine though: just 189kg wet, which is fairly impressive for a three-cylinder steel-framed bike.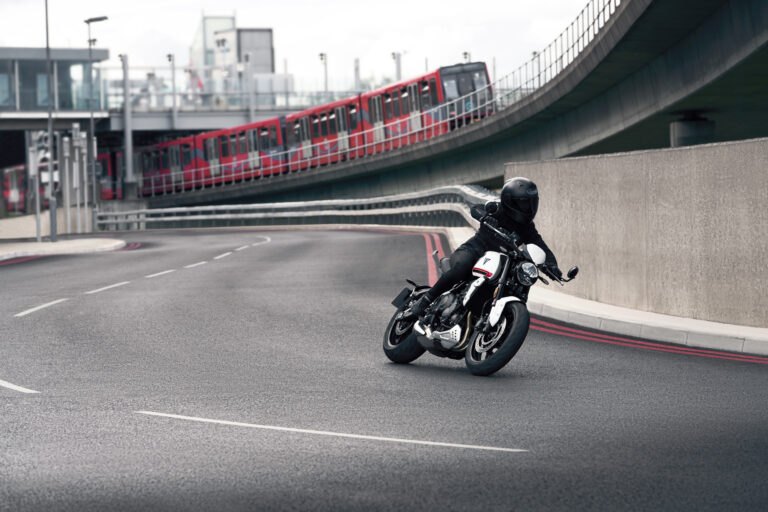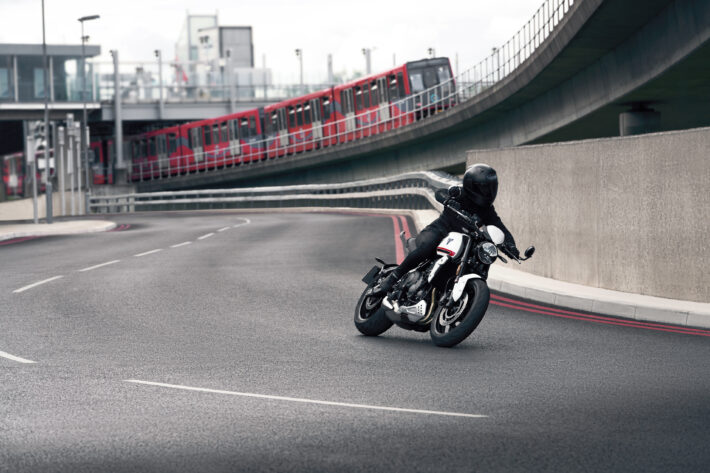 The styling of the Trident is a bit of a mish-mash. There are retro hints, like the rubber-look cut-out tank grip sections and round LED headlamp. But stuff like the USD forks, water-cooled engine and monoshock rear swingarm are standard modern road bike fare, so you're left a little confused again. The graphics are muted and restrained with lots of black, white and grey, plus dashes of red – it's a long way off the likes of a Ducati Scrambler or Yamaha MT-07 in terms of styling. The massive 'Union Flag' Triumph 'T' logo is also a bit of a 'Marmite' look we reckon.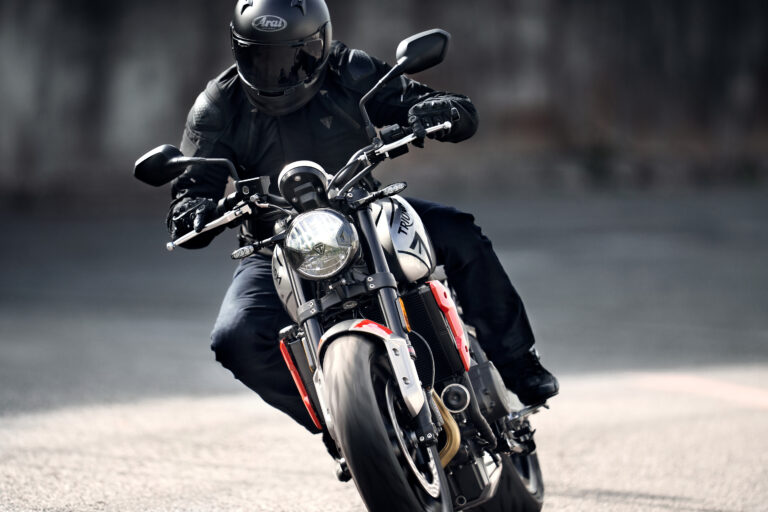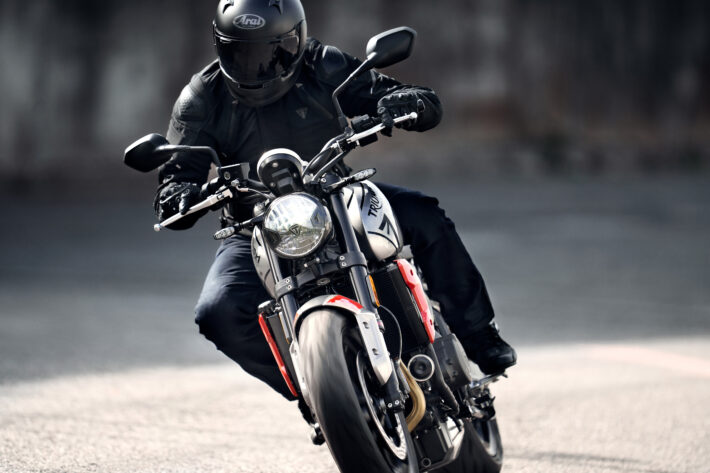 The Trident has a lot to offer in its market sector though. The triple engine is unique amongst a series of twins, and the grunty power delivery is impressive. The chassis benefits from that light weight, while the suspension is plush and capable enough. The brakes definitely need a bit of a hefty squeeze for maximum braking effort, but are more than good enough for the target market.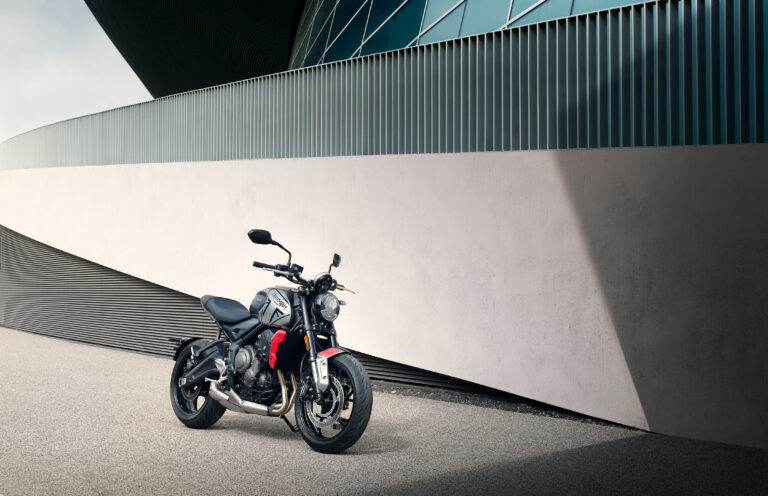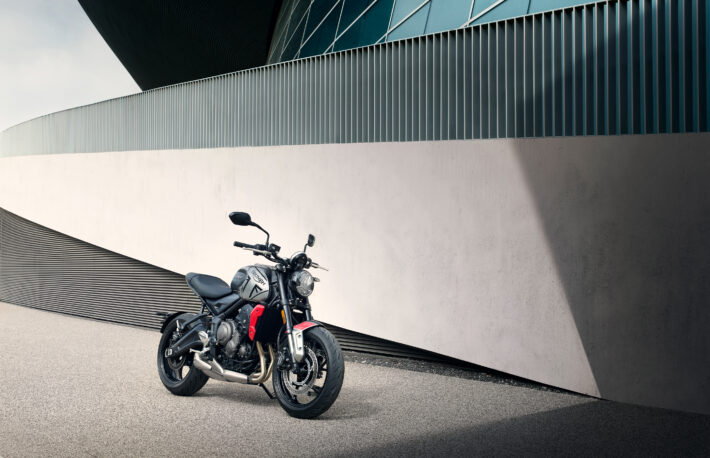 For the new price of around £7,500-8,000, the Trident has a lot to offer. The engine is great, and the chassis just about keeps up with proceedings, albeit with less braking finesse than we'd like. It's got comprehensive entry-level electronic rider aids – switchable traction control and ABS, plus two rider power modes, and a compact TFT LCD display unit. There's also an optional quickshifter unit, and options to add Bluetooth and USB connectivity, to link your phone to the dash. The only real quibble is with the curious styling – but this is in the eye of the beholder of course: you'll know yourself if you like the look of it already.
Triumph Trident 660 Insurance