Royal Enfield Interceptor 650 Overview
It's hard to think of a single bike which transformed a brand's fortunes so much almost overnight. Before Royal Enfield launched the 650 Interceptor (and its very similar Continental GT sibling), its bikes were basic, underpowered, poorly-made and vibey as hell. Based on post-war single-cylinder engine designs, bikes like the 500 and 350 Bullet fared poorly against modern Japanese and European kit.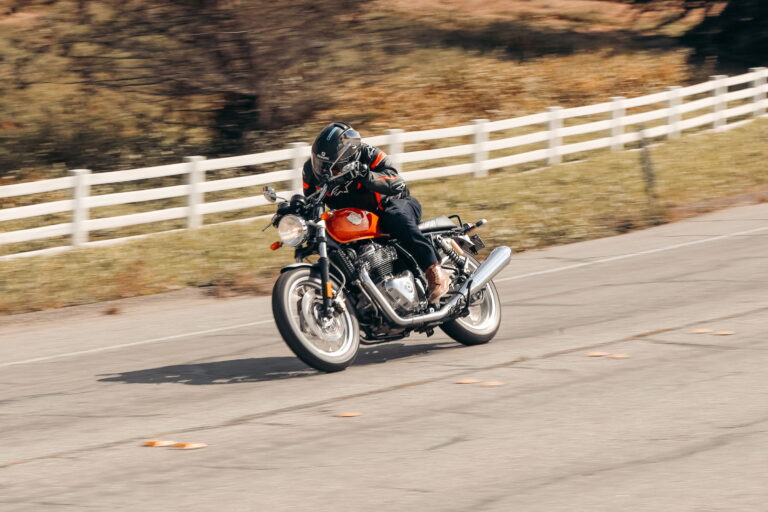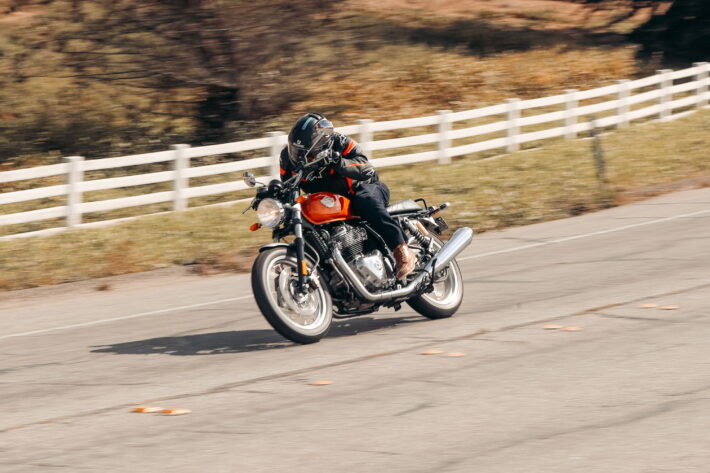 But with the new 650 twins, Enfield was very much back in the game. Not only did the new bikes have an all-new engine that was smooth, reliable and torquey, they had a genuinely good chassis design. Add in some good looks, classic styling, and, best of all, a super-low price, and the Indian firm had an instant hit on its hands. Since the bikes were launched back in 2018, they've been right at the top of the sales charts in the UK, tapping into the zeitgeist of tight financial times and nostalgia for the good old days, while also being a load of fun to ride.
The basics are, er, basic enough: the engine is air/oil-cooled, with a SOHC head, but four valves per cylinder, and a modern 270° firing order. A no-fuss fuel injection system, low compression ratio of 9.5:1 and a redline around 7,500rpm gives peak power of 47bhp –exactly the limit for A2 licence riders – while a six speed gearbox and chain final drive take care of the transmission.
The engine is bolted into a standard twin-tube cradle-type steel frame, the forks are conventional non-adjustable parts and the twin-shock rear swingarm has only five-position preload adjusters.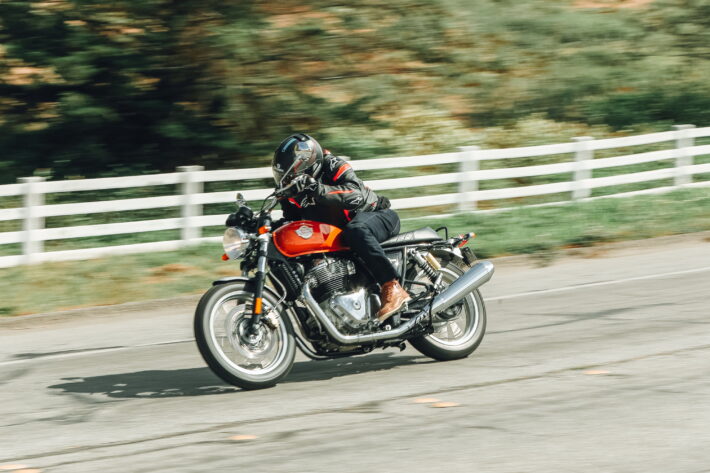 One lonely brake disc at each end looks after the stopping duties, with a dual-piston caliper up front, and the tube-type wire-spoked wheels have classic sizes: 18 inch rims, with a 100-section front and  130 rear. Stock rubber is by Pirelli, and the retro-styled Phantom Sportcomps are one of the best parts of the bike, giving ample grip, feel and feedback despite their 1970s-look tread pattern. Conversely, the single ByBre front brake is a bit underpowered and vague – you could definitely do with more stopping power here.
The Interceptor is great fun to ride, and doesn't take itself too seriously. The engine is just about fast enough for British roads – you'll not be holding up any traffic, and will show most cars a clean set of wheels away from the lights. Top end is around 100mph, which might be just what you're looking for in these high-speed times…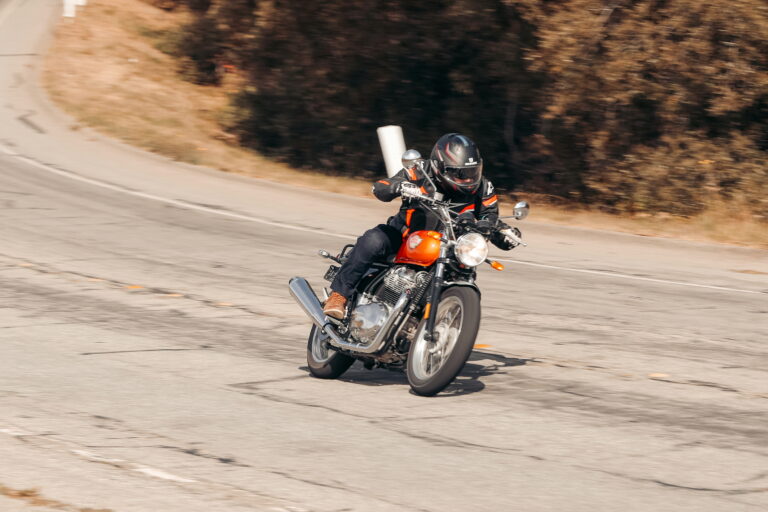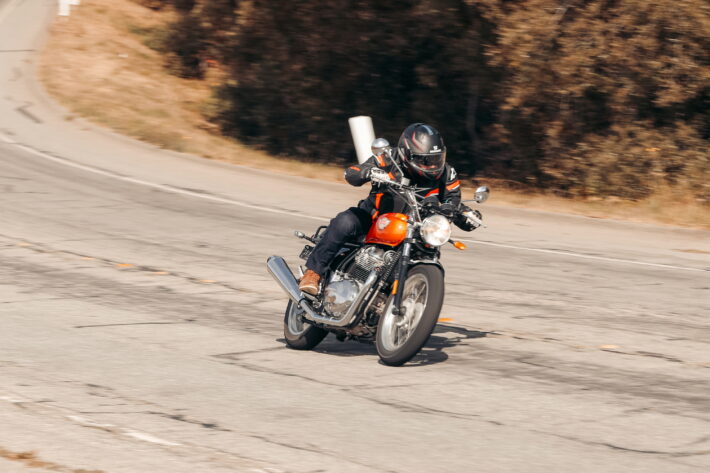 But it's the chassis which really appeals. Royal Enfield develops its bikes in the UK, and has more than a few ex-BSB racers in its test riding department. The firm also bought out the Harris Performance chassis engineering company in 2015, and there's a lot of Harris know-how in the chassis design. The result is a completely sorted package in terms of handling – surprisingly agile and capable through twisty bends, yet calm, sedate and stable at speed.
It's all perfectly balanced, so the tyres match the wheel sizes which match the steering geometry, which matches the budget suspension, and it all works with the 200-odd kg mass and the modest engine power output.
One of the upsides of a fairly cheap, basic machine is that you can have some fun fettling it and making it your own. With the Enfield 650 twins, perhaps the first stop would be the brakes and suspension. Uprated pads and disc on the front brake is a fairly simple and useful mod, though a higher-performance caliper/master cylinder, or a twin-disc conversion, would make more difference to the stopping, at the cost of more cash and effort.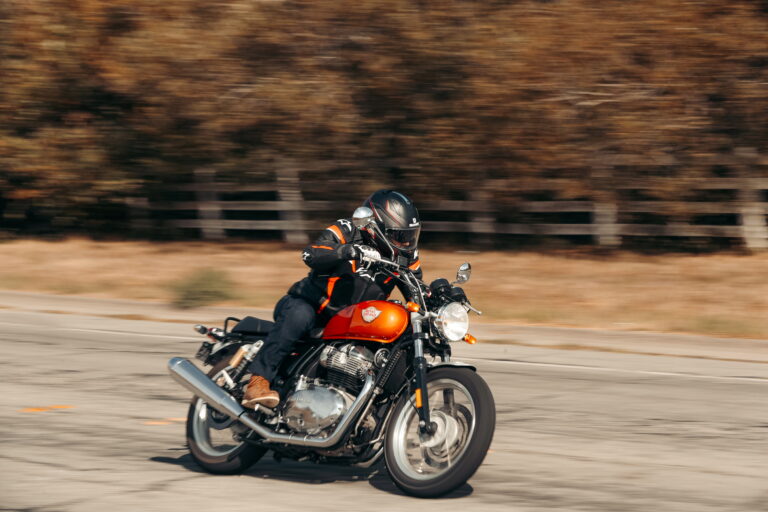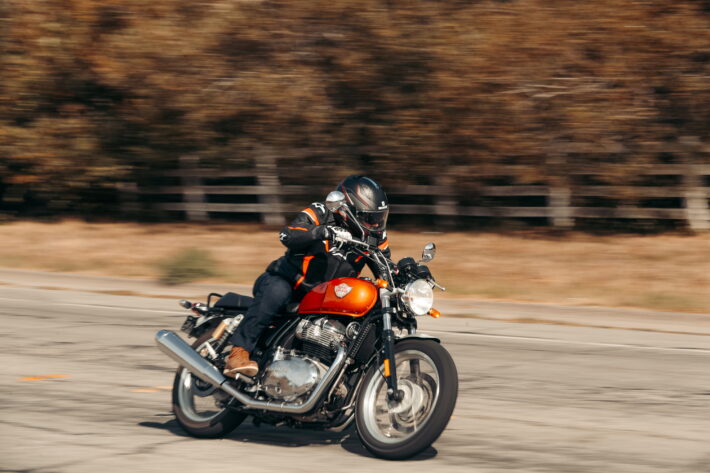 On the suspension front, some higher-spec rear shocks are a super-easy fix and will add to the riding pleasure and the style. Upgrading the front forks is a bit more work, but again well worth the effort, and will help you get even more out of the solid standard chassis package.
Enfield itself offers a range of bolt-on accessories, including engine bars, luggage, windscreens, different seats, and a host of customised machined alloy parts like crash bungs, mirrors, reservoir caps and much more. They're all well priced, and sharpen up the style and practicality nicely.
Royal Enfield Interceptor 650 Insurance