BMW R18 Classic Overview
BMW has always been a big player in the United States. And this, the mighty R18, is one of the most US-centred models it's ever made. In many ways, it's a bit like a Harley-Davidson Big Twin, with a similarly-sized air-cooled pushrod engine, massive all-up weight, low-slung cruiser chassis and retro styling.
The engine is at the heart of proceedings of course. It's the biggest Boxer motor the firm has made in its 100-year history, with a 1,802cc capacity and classic lines, but a very modern design ethos.
It is, of course, packed with all the electronics that a 2023 powerplant needs to stay clean, so you have four-valves per cylinder, ride by wire fuel injection, catalysts and all that good green stuff. And it also comes with modern rider aids too: cruise control, smart traction control, engine brake control and rider power modes.
Add in stuff like keyless ignition, heated grips and an LCD display inside the retro analogue clocks and you have a very modern retro cruiser.
But what's it like to ride? Well, the most obvious feature of the R18 is its size. It is properly massive, and weighs in around 365kg ready to ride – nearly the same as two S1000 RRs. The steering geometry is pure cruiser, with the front wheel a long way off, super-wide handlebars and a fat 16" front tyre.
That all makes for a very different ride from 'normal' bikes, but you soon adapt and get into the cruiser groove (not that you've got much choice…) The brakes work well considering the mass: a pair of very modern four-piston calipers and 300mm discs up front are paired with a 300mm rear disc, and as always with a big custom, you should use 'em all when you want to stop in a hurry.
BMW's latest ABS setup will keep you right even in slippery conditions, and while the Bridgestone Battlecruise H50 rubber is not going to set any lap records anywhere, they're far better than custom tyres used to be.
The engine is the best thing about the R18. It's super-strong down low of course, thanks to the massive capacity and low state of tune. It only makes 91bhp, which is insanely low for a 1.8 litre motor, but it's all about the bottom end grunt.
There's a super-strong wave of torque from idle, and gear selection is often moot: you can potter around town in top gear at 30mph without any problems. Out of town, you soon get up to ramming speed, and the top end of around 100mph feels like as much as you'd want to be doing with that chassis anyway.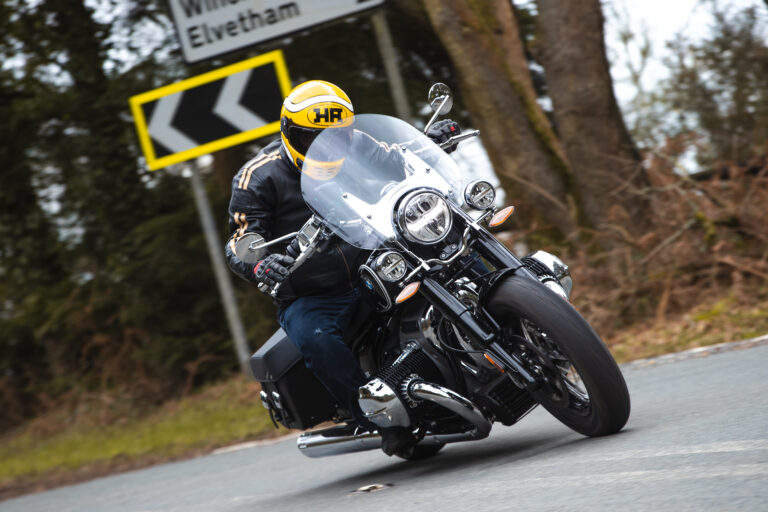 The rider aids are a nice thing to have, especially the ABS, though you might think the traction is a bit moot considering the low power output. What does make sense is the engine brake control system: the massive 1800cc engine puts a lot of deceleration force into the rear tyre on a closed throttle, which could have the back end sliding about on wet surfaces.
The computer watches for this though, and simply opens the ride-by-wire throttles a touch, reducing the engine braking, if it thinks the tyre is about to lose grip. The three riding power modes – Rain, Rock and Roll are fun enough, but again, not as important here as on 200bhp+ superbikes.
The final rider aid sounds superfluous, but is actually dead useful on such a heavy machine: an electric reverse gear. You'll not use it 90 per cent of the time (apart from showing off to your mates), but that one time you park facing downhill, it will be a life saver.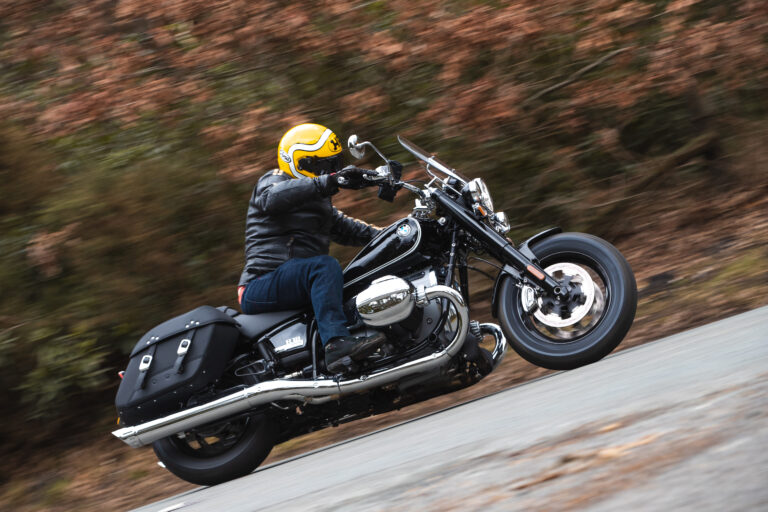 You just select neutral, engage the reverse lever down next to your left leg, and then press the starter button. The starter motor whirrs away and sends you off backwards in a serene fashion, like a 1930s ocean liner being launched into the River Clyde. Great stuff.
The Classic comes with a useful fork-mounted windscreen and leather saddlebags, making it a solid option for modest touring or daily use. Summer only though, eh? No-one wants to see all the chrome, black anodising and spoked wheels after three months of middle-England salt exposure…
BMW also offers a load of optional accessories, from different windscreens and luggage to posh black anodised engine covers, machined billet footpegs, chromed engine bars, different exhaust silencers and fancy machined cast wheels to replace the wire spoked parts.
BMW R18 Classic Insurance