Tips for Taking Your Bike Abroad
Taking your motorbike abroad can be a really exciting experience but it is also one which needs a lot of preparation and planning. 
It isn't as easy as simply hopping on your bike and seeing where the road leads you although that can certainly be an element of the trip if that's the sort of thing you enjoy!
If you are a first-timer to taking your bike abroad then it can be daunting to know where to begin planning which is why we've come up with this handy guide, which will hopefully answer any questions you might have as well as point you in the right direction for places to begin looking.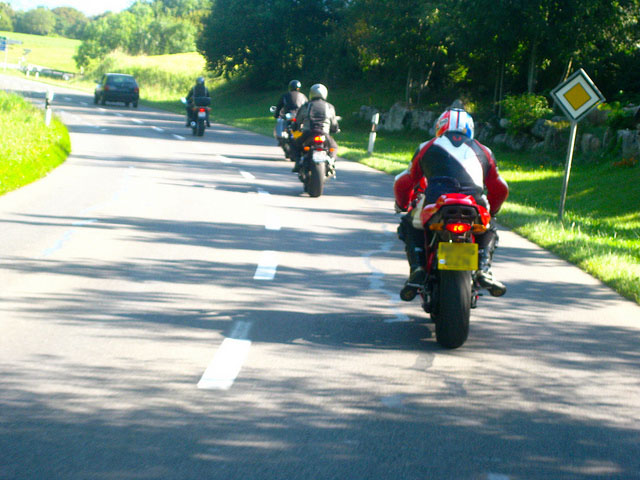 Where to go?
Travelling across the channel will open up most of Europe to you so it's a good idea to think about which countries you might want to visit and how achievable that might be on your first trip across.
France and Spain are always two great options particularly for first timers although you will still need to brush up on your knowledge of rules of the road; they differ in every European country and you will need to know what they are before you set out.
It's also a good idea to learn a few handy phrases in the language of your country of choice.  Whilst many places do speak English, if you are heading into the more remote parts of a country, away from the tourist areas you might find it more difficult to make yourself understood unless you have a grasp of some basic phrases and words.
Where to stay?
Once you have decided where you are headed then you need to consider places to stay.  There are plenty of motorbike friendly accommodation options in Europe from hotels to campsites and it will really come down to your own personal preferences.
When booking your accommodation be realistic about the distances you can travel each day and don't push yourself too hard; it should be more about the experience of riding in another country rather than the miles you cover.  Factor in plenty of time to stop and appreciate the surrounding scenery or attractions and maybe even book two or three nights in the same place so you can fully explore the area.
If you like to leave your accommodation more to chance then this is equally possible; perhaps just carry a list of hostels and campsites in the rough area of where you will be travelling so you have something to refer to as and when.
What to bring?
The main rule here is not to try and cart too much stuff along with you.  If you are travelling in a larger group then equipment (such as tents etc) can be spread out between you but when it comes to your own luggage, pack sparingly.
That doesn't mean skimp on the essentials but it does mean don't bring along anything which is unnecessary.  Packing, unpacking and then repacking is one great way of weeding out the things you actually don't really need.  It's also a good idea to make sure that your bags are waterproof or bring along a plastic bag which can be used to cover luggage if the weather turns sour.
Before your trip:
Once you have planned where you are going and have begun to pack, it's time to think about other essentials.  Have your bike serviced to ensure that there are no nasty surprises whilst you are away and ensure you carry spare items such as bulbs.
It is also a good idea to check your insurance covers international travel, and to purchase the correct insurance if it does not.  Make sure you pack all paperwork relating to your bike and carry these somewhere close to you when biking; in many European countries you may need to produce these when stopped and failure to do so can result in on the spot fines.
As well as having the correct insurance you will also need suitable breakdown cover.  Sometimes despite our best planning, things can go awry and you don't want to be left out of pocket if something were to happen to your bike.
Group travel:
If you are a first timer then it could be a good idea to travel as part of a larger group, or at least bring another person along for the trip.  Not only do you have someone to keep you company and experience the trip with but it also means you've got someone to watch your bike whilst out riding.
The biking community is very strong and you will find people are friendly wherever you go so remember to be friendly back.  This can be great if you are travelling alone; you may find a group of bikers to ride with for a day or two before heading your own separate ways.
On the ferry:
You will be required to pass through security and passport checks and wait inline with the other vehicles trying to board the ferry.  Once you have boarded, you will be pointed to the relevant place to park your bike and it should be secured by a member of the ferry's crew, although it might be worth checking if this service is offered by the ferry company. If not, you will need to read up and perhaps watch a guide or two on how best to secure your bike.
You aren't required to bring your own straps, these will be provided for you and thick foam pads will also be placed across your bike to prevent any damage from the straps.  Take any essentials you think you might need on board with you as you will not be able to return to your bike until the ship begins to dock and you are instructed back to your vehicle by the crew.
On the trip:
Remember to have fun whether you are covering thousands of miles or just sticking to one area.  This trip is about getting out and exploring Europe from the freedom of your bike and it will almost certainly be memorable; as long as you remember to enjoy it!
Are you lucky enough to be taking your pride and joy abroad? What tips would you give to your fellow bikers to prepare themselves and their bike?