A Beginner's Guide to Biking Events – Part 1
It's safe to say that most people within the motorcycling community are extremely passionate about their pride and joy – their bike.
So many motorbike owners become involved with all of the different aspects of the biking world, it's just part of parcel of owning such an amazing piece of machinery. One of the added benefits of owning a motorcycle is becoming part of a welcoming and friendly community; a community that also lends itself extremely well to many social events such as ride outs, café and biker nights and motorcycle shows to name a few!
ikSpecialised biker events provide motorcyclists or those just simply interested in motorcycles a great way of connecting with other like-minded people. Events are also useful to those who are new to the scene allowing them to meet with experienced riders, listen to their stories, receive useful tips and advice and generally learn about the industry.
This guide will provide you with useful information relating to the many different types of biker events, including what you should expect from these events and which ones you just can't miss!
RIDE OUTS
If you're a beginner rider then ride outs are a great way for you to explore some of the most famous motorcycling roads around.
You'll find a variety of organisations arrange ride outs just a quick search on Google will help you to find one in your area. These can sometimes be charity fundraising events whereby each rider will pay to participate in the event. Do a bit of research first to make sure you know what the deal is with the event, most importantly time and meeting place!
Ride outs also give riders the opportunity to meet other like-minded people and are a great excuse to arrange future ride outs. For beginner bikers it enables them to see a lot more of the country that they wouldn't necessarily see when they take trips solo.
Ride outs build strong biker communities, when riding everyone stays together and looks out for one and other. When riding in large groups the "Drop off System" is usually adopted. This works by having smaller groups within the ride out; each group will have a ride leader and a tail end. There will often be a marker rider; this is the rider directly behind the leader. This rider's job is to indicate to the rest of the group the direction in which the leader takes.
The marker rider will usually be wearing a hi-vis vest. When there is a change of direction for example at a junction or roundabout the marker will find a safe place to pull over and indicate to the rest of the group which direction the ride leader has taken, they will then re-join in front of the Tail End Charlie. The purpose of this system is to keep all riders together, successfully and safely.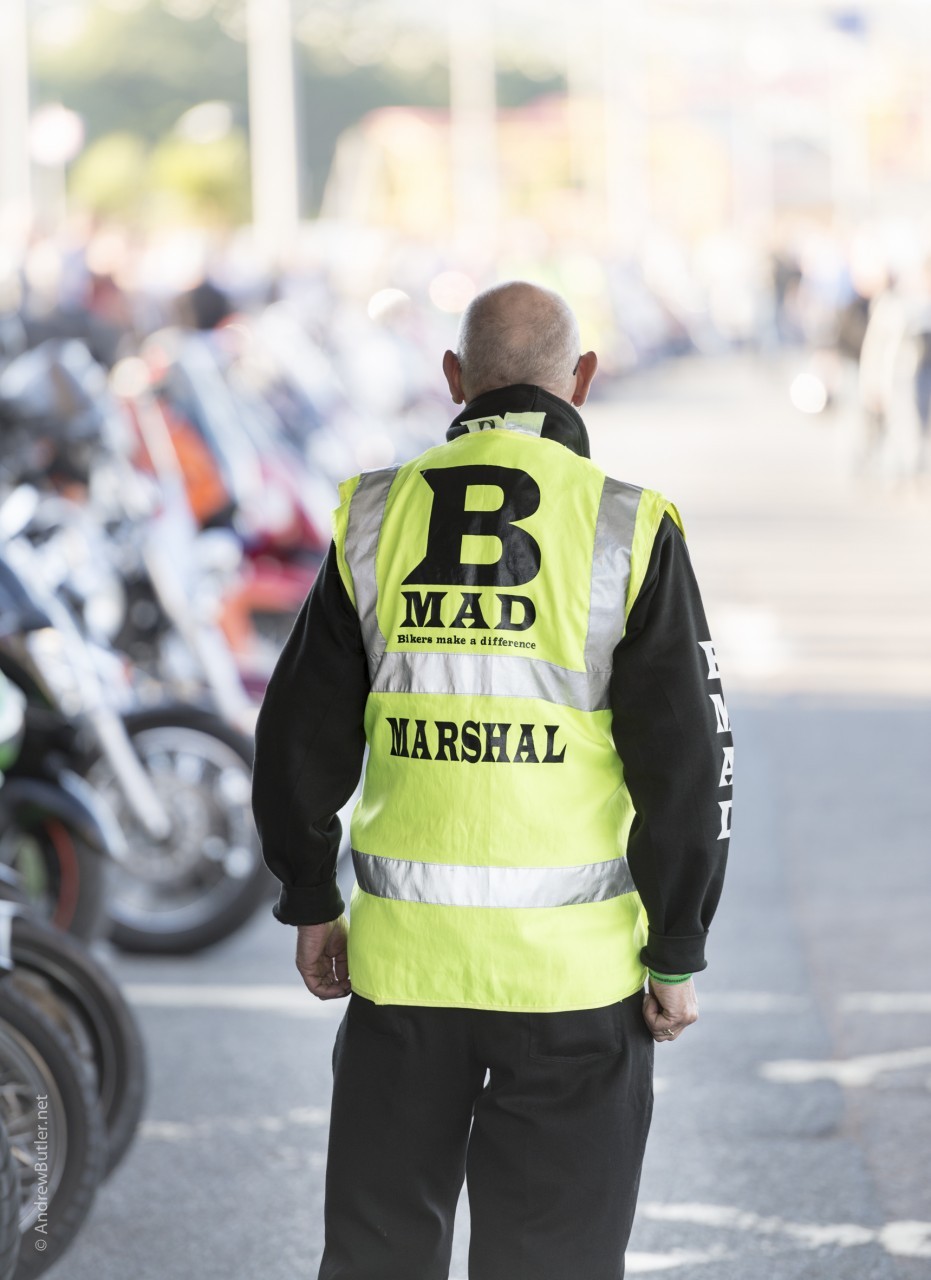 RIDE OUTS TO LOOK OUT FOR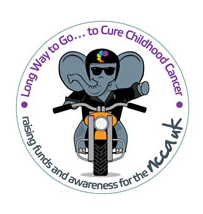 Long Way to Go – Raising awareness for NCCA UK
This ambitious ride out runs over the course of five days and is taking place on 3rd-7th September 2014, beginning in London and finally finishing in Ireland.
Riders can give themselves the ultimate challenge of tackling the whole ride, stopping off at recommended accommodation along the way. However, if you don't fancy doing the complete ride then there's the option of picking it up at various destinations. For more information visit the NCCA website.
Essex Air Ambulance Motorcycle Run 2014
Usually taking place each year in September in Harwich, this 60 mile ride out raises vital funds for the Essex Air Ambulance. Once you've passed the finish line you'll be greeted by great entertainment such as a motorcycle stunt show and live music. For more information visit the Essex Air Ambulance website. 

CAFE NIGHTS
These are biker friendly cafés sand by that we mean, cafés with ample parking, able to facilitate and cater for large numbers of bikers and generally cafés that are run by people who know a lot about biking and are friendly and welcoming.
Some biker cafés arrange ride outs, giving bikers convenient meeting points before they set off on their trips.
Biker cafes may also be attached to other establishments for example, motorcycle dealers and shops (extremely useful if you're in need of a repair job or spare parts and fancy a cuppa and bacon sarnie whilst you wait) or bed and breakfasts (perfect for those long rides when you are in need of some much needed rest).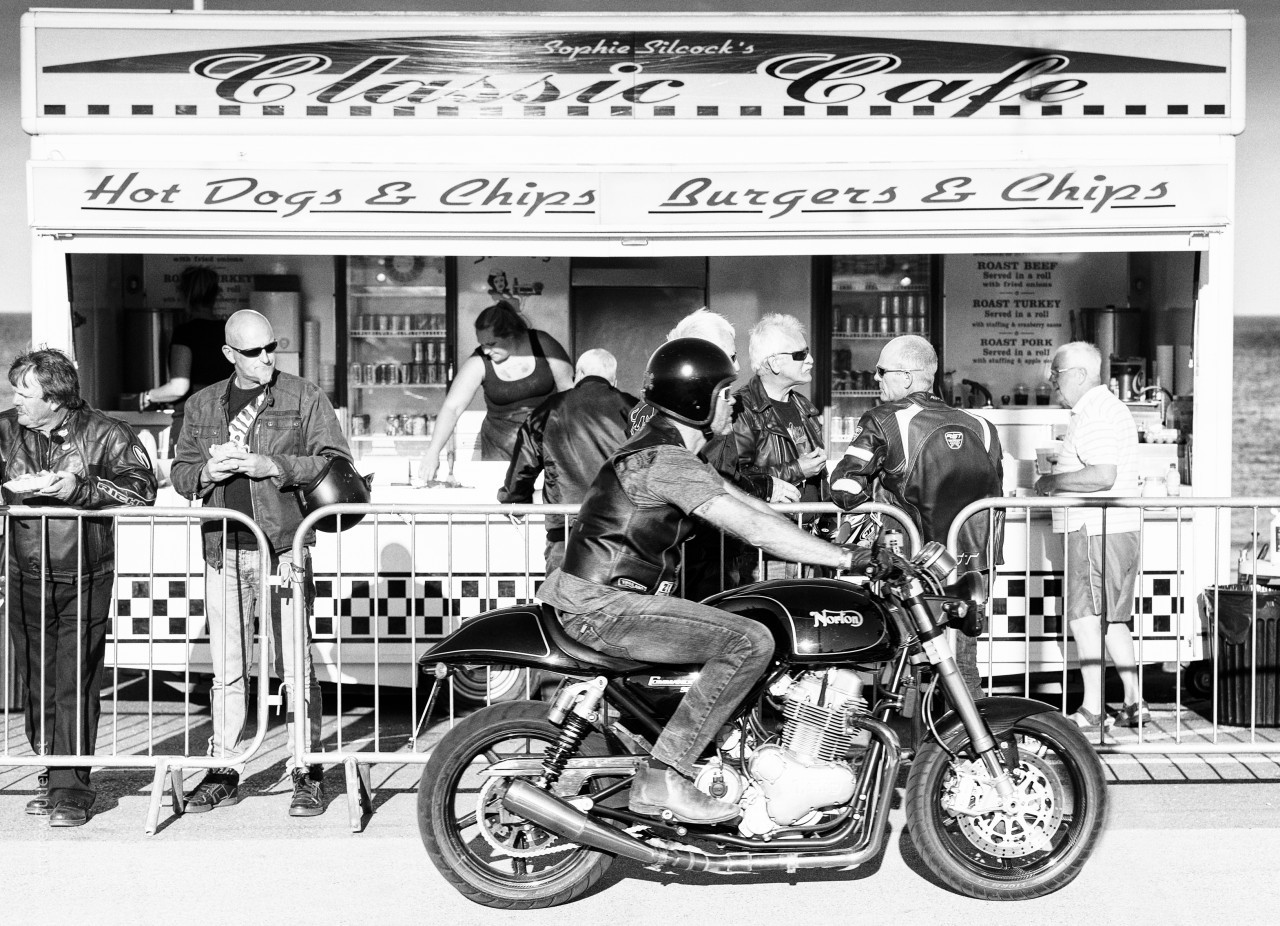 CAFE NIGHTS TO LOOK OUT FOR
Ace Café – Stonebridge, London
Ace Café is particularly popular amongst the biker community and not surprisingly, the teams love for motorcycling is huge and this really shows, from the décor to the many bikes and cars that gather outside on a regular bases.
Visit Ace café for the friendly atmosphere, rock 'n' roll music and the fantastic food. There's always something happening at Ace Café such as Bike Night's, Club Meets and ride outs…they've got it all going on. Visit the Ace Cafe website to find out when their next big night is.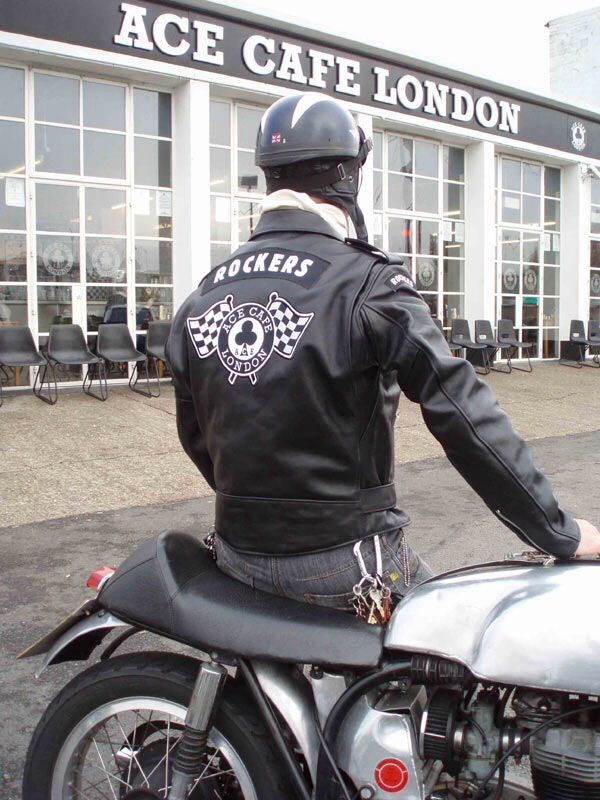 The Green Welly Stop – Perthshire, Scotland
If you're taking a ride out in the Perthshire area then The Green Welly Stop makes for the perfect pit stop. You can re-fuel your stomachs as well as your tanks here! As well as a café and petrol station The Green Welly Stop also has a shop which sells all kinds of merchandise, clothing and every day necessities. So if you've left anything behind whilst on your travels you'll probably be able to pick it up from here.
The Green Welly Stop is hugely popular among bikers and they accommodate the thousands of bikers that visit, with their large car park and friendly attitude.
For more information on the biker groups that visit The Green Welly Stop and when they plan their café nights visit The Green Welly Stop website.
Squares Café Bar – Leeds
Squares is a hugely popular café among bikers, during the summer months this café is rammed with motorcycle enthusiasts from all over the North East area and further afield.
Squares are regularly planning ride outs and events for their customers so if you're nearby then this café is definitely worth a visit. There's plenty of parking here so Squares really is the ideal place to meet before and after ride outs.  For more information visit the Squares Café Bar website.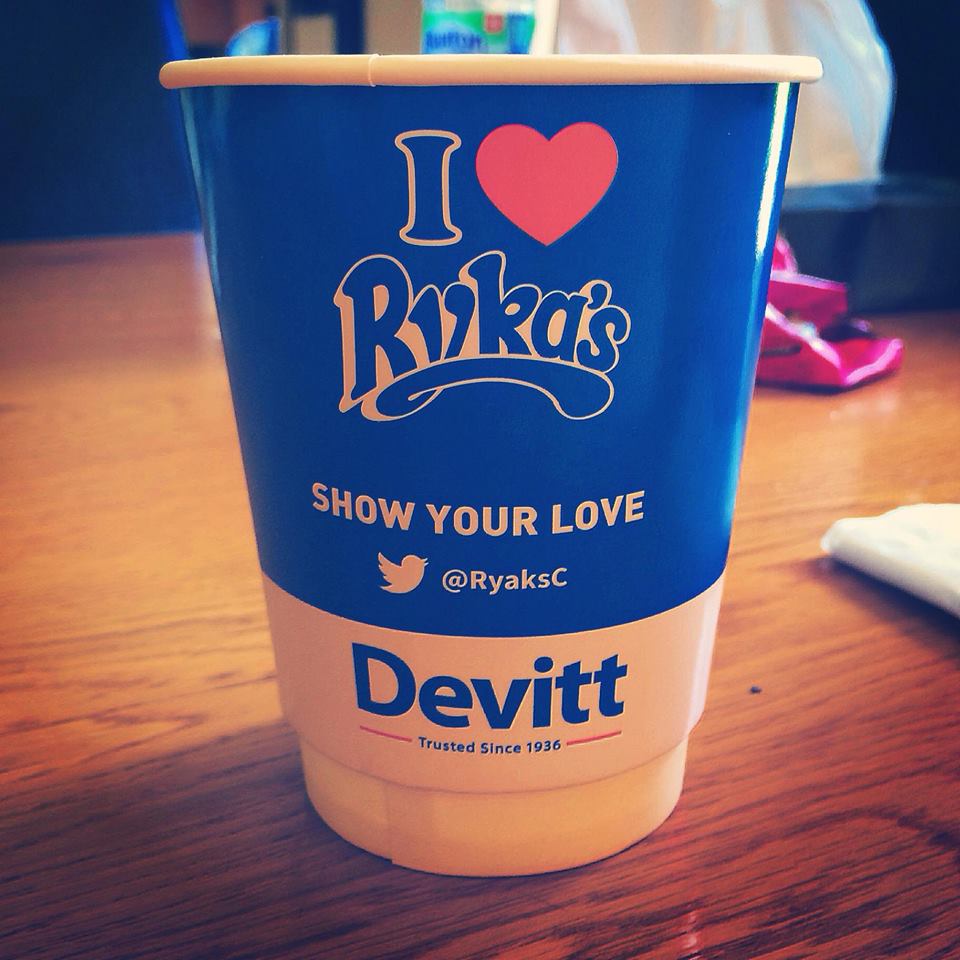 Ryka's is a well-known café within the biking community, its great location and large outdoor area makes it the perfect spot for bikers to meet for a catch up or before and after ride outs.
The owners are extremely friendly and welcoming and do all they can to cater for motorcyclists needs. With a large outdoor area providing ample parking and picnic benches Ryka's Café is the perfect place for bikers to relax, unwind and get ready for their ride.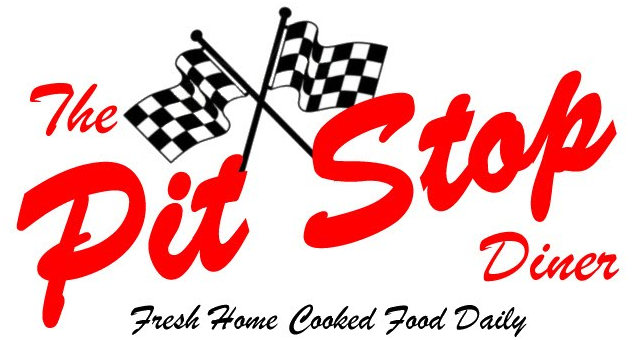 The Pit Stop Diner – Stockton on Tees
The Pit Stop Diner is a great diner with an impressive menu. This is also an ideal place for bikers to meet or to use as a starting point before ride outs.
The Pit Stop Diner hold bike nights every Tuesday from 5-9pm, visit The Pit Stop Diner website to find out more.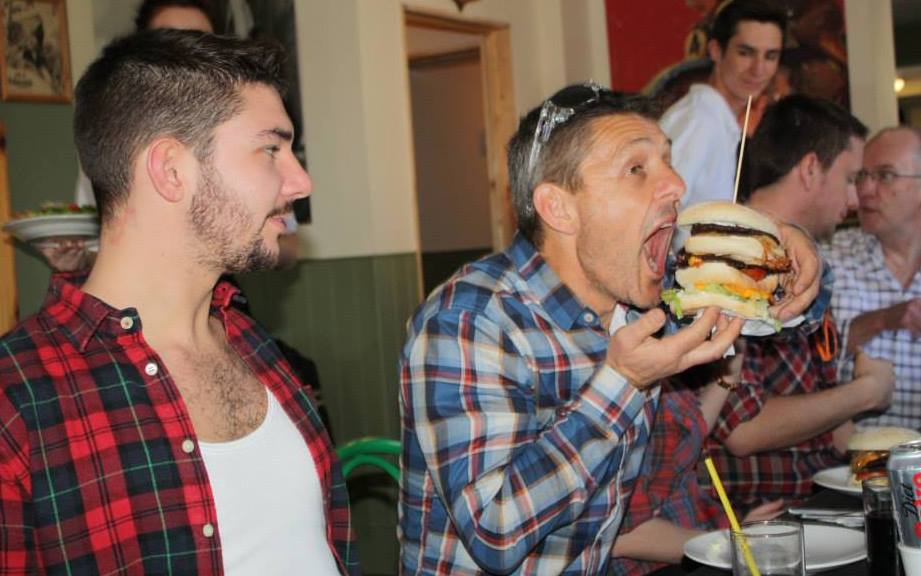 Wessons Café – Heathfield, East Sussex
A family owned business passionate about biking and bikers. This café really has biker written all over it, from the biking memorabilia décor to the size of the large burgers that are served! This large premises is the ideal place for biker groups to meet either before a ride out or simply for a catch up over lunch.
Wessons café also arrange regular ride outs at weekends and during week nights. Visit the Wessons Café website to find out more.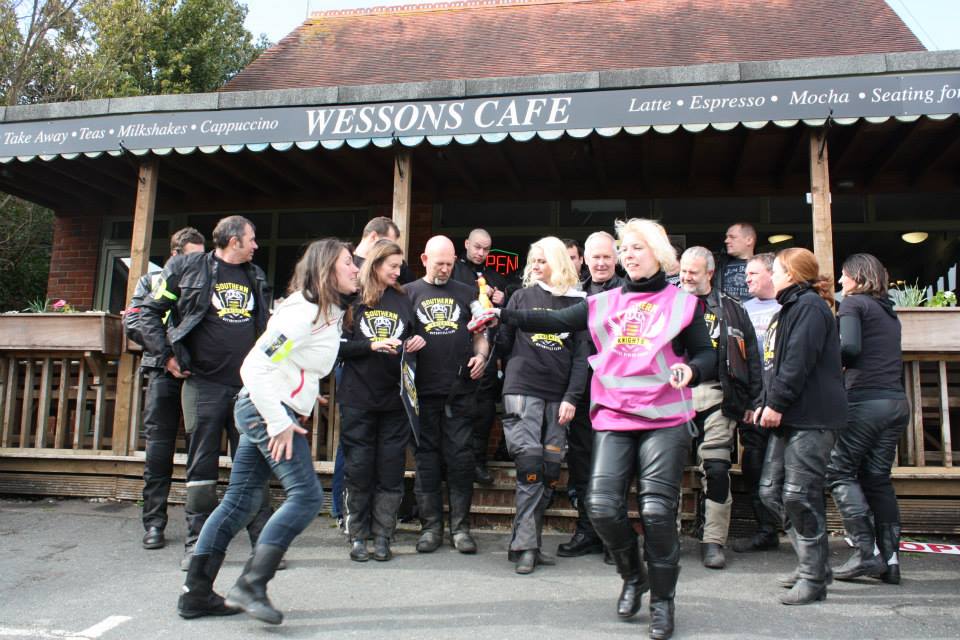 The Ponderosa Café – Llangollen, Wales
An extremely popular biker's café and the ideal place to stop to re-fuel those stomachs and to meet with all types of bikers. You can even spend the night here in the B&B accommodation.
The Ponderosa Café is located on The Horseshoe Pass in Wales – an extremely popular route amongst bikers, so if you're planning a trip along this well-known mountain pass then we recommend a pit stop at The Ponderosa Café. Visit the Ponderosa Café website for more information.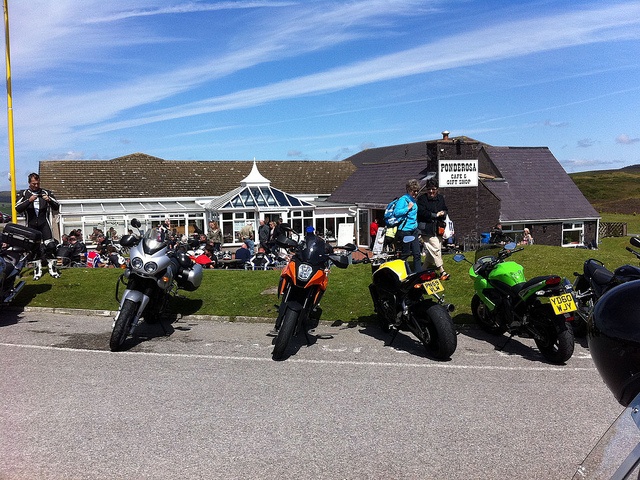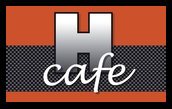 H Café – Dorchester
H Cafe is a welcoming family owned café run by bikers for bikers. If you're local then make sure you visit the café on a Monday when they hold their bike nights.
H Café also enjoy organising and attending various events, to find out when their next event is or for more information visit the H Café website.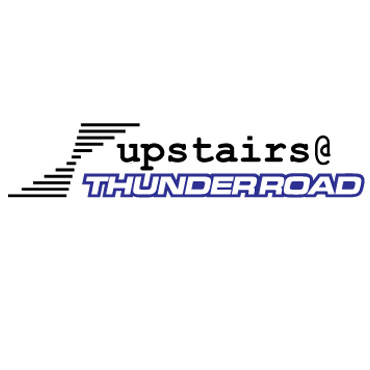 Thunder Road Cafe – Bridgend, Wales
Conveniently located above a motorcycle dealership, Thunder Road Café has a lot to offer. While waiting for a repair, MOT, spare part or any other service customers can pop upstairs to the cafe and enjoy a bite to eat.
The menu at Thunder Road is impressive with a wide variety of breakfasts and lunches to choose from.
Thunder Road often enjoy attending regular events such as ride outs, test rides, bike launches and more! To find out more information go to the Thunder Road Café website.
BIKER GROUP NIGHTS / BIKER MEETS
These are evenings for bikers to get together to socialise. Biker groups will usually arrange for them to take place at local pubs, these nights give bikers and their families a great opportunity to get to know the people they are riding with and to have a good chat.
If you're new to the biking community make sure you find out where your local biker groups are based and get involved in some of their biker nights, you'll meet lots of great people all with a passion for biking.
Visit the Bike Guide to find one near you.
That's not all, there's still more to come, make sure you read PART TWO of this guide! Click here to continue.